How to get a California Motorcycle License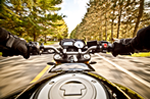 California Motorcycle License Guidelines
How to Prepare for the Written Exam
Required ID and Paperwork
California DMV Motorcycle License Rules
Ready to take your motorcycle on the open road? We'll walk you through the steps to get your California motorcycle license with an extra emphasis on safe driving.
Try Sample Test!
You'll need to be familiar with the California Driver's Manual. Think you know the material?
Take our Motorcycle License practice test now and test your knowledge here first!
First Time Motorcycle Riders
Under California DMV guidelines, anyone who drives a motorcycle must have a Class M1 motorcycle license or motorcycle instruction permit.
Applicants must be 16 years of age (have had your permit for six months), completed driver education and driver training or have your California driver license. You must complete application form DL 44, give a thumbprint, have your picture taken, pay the application fee, pass the motorcycle knowledge test, and a vision screening. The final step is to pass the motorcycle skills test where you will demonstrate your competency in motorcycle operation.
If you are under 21, you must complete a motorcycle rider-training course given by the California Highway Patrol (CHP) and provide a certificate of Completion of Motorcycle Training (DL 389) to the DMV to be issued your license. You will not be required to take the motorcycle-driving test at the DMV if you currently have a California Drivers License.
If you are over 21, you may either choose to complete the course by CHP and provide the certificate or schedule an appointment at the DMV to take the driving test. (You may also call 1-800-777-0133 between the hours of 8 a.m. and 5 p.m. Monday-Friday, to make a driving test appointment.) You have three chances to pass the test.
Prepare for the Motorcycle License Written Test
The California DMV requires that all applicants must pass a written exam on traffic signs, motor vehicle laws and safe driving techniques. If you fail the exam, California requires that you wait 7 days before you can take the test again and, if you do not pass within three tries, you are charged a re-examination fee.
All motorcyclists are encouraged to study for this written test so you don't take a chance on standing in line at the DMV Office only to go home empty-handed. Test your motorcycle safety and driving knowledge and take our California motorcycle practice test today!
Required Paperwork
Before you head to the California DMV Office, make sure you have the following required documents to get your motorcycle license. Examples include:
Proof of social security number
Proof of birth date and legal presence
Birth certificate issued in any state
Drivers license or instruction permit issued in another state
Parental Consent Form, (if under age of 18) which must be signed in the presence of a driver license examiner or notarized if parent or guardian will not be present.
On the Road
Once your licensing requirements have been met, a Class M endorsement will be added to your driver's license. Remember... the safe operation of a motorcycle requires practiced skill, knowledge, and a respectful understanding of the limitations imposed by the operator, the machine, and the environment.
California Motorcycle License Resources