How to get a Tennessee Learners Permit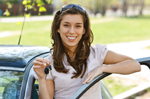 Tennessee Learner's Permit Guidelines
How to Prepare for the Written Exam
Required ID and Paperwork
TN Learners Permit Rules and Requirements
Find out the steps to get your TN driving permit, pass your DMV written test and the required paperwork to bring to the DMV office to get your driver's license.
Try Sample Test!
All applicants need to be familiar with the Tennessee Driver's Manual. Think you know the material? Take our DMV practice test now and test your driving knowledge.
First Time Drivers
Under Tennessee DMV guidelines, you must be at least 15 years old to apply for a learners permit. All applicants are required pass a written exam and a vision test in order to obtain the permit. You then must hold the learners permit for 180 days from the issue date, be at least 16 years old, and have logged 50 hours of driving time (including a minimum of 10 hours of driving at night) prior to applying for an intermediate drivers license.
Prepare for the Written Test
The Tennessee DMV requires that all applicants must pass a written exam on traffic signs, motor vehicle laws and safe driving techniques. If you fail the exam, some states require you to wait until at least the next day to take the test again and charge a re-examination fee.
All new drivers are encouraged to study for this driver education exam so you don't miss the opportunity to get your learners permit as soon as you reach the approved age. Online practice tests are available that provide real sample questions from the DMV Exam - Take the Tennessee practice permit test now and test your driving knowledge.
Required Paperwork for your Instruction Permit
Before you head to the Tennessee DMV Office, make sure you have all of the following required documents to get your instruction permit:
Primary and secondary proof of your age and identity
Proof of any name changes since birth certificate (i.e. if married bring certified marriage certificate, etc.)
Social Security number if one has been assigned, or Affidavit affirming that no SSN ever issued.
Two (2) Proofs of Tennessee Residency
Proof of U.S. Citizenship or Legal Presence
Parent to sign Minor/ Teenage Affidavit form and agree to financial responsibility law related to the issuance of the learner permit or license.
Proof of School Attendance (Please see page 16 of the driver license handbook for further explanation.)
On the Road
During the learners permit phase, the licensee must complete 50 hours of driving time, 10 of which is for nighttime driving.
The licensee must be at least 16 years old to qualify for a restricted license. The nighttime restriction for a restricted license is not being allowed to drive between the hours of 10 PM to 6 AM. The licensee is not allowed to have more than one passenger at a time.
In order to get full driving privileges in Tennessee for removing nighttime driving and passenger restrictions, the applicant must be at least 17 years old. Learner's permit holders in Tennessee may not drive from 10 pm to 6 am.
Tennessee Driving Permit Resources