How to get a Georgia Learners Permit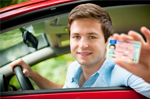 Georgia Learner's Permit Guidelines
How to Prepare for the Written Exam
Required ID and Paperwork
GA Learners Permit Rules and Requirements
Find out the steps to get your GA driving permit, pass your DMV written test and the required paperwork to bring to the DMV office to get your driver's license
Try Sample Test!
All applicants need to be familiar with the Georgia Driver's Manual. Think you know the material? Take our DMV practice test now and test your driving knowledge.
First Time Drivers
Under Georgia DDS guidelines, you must wait until your 15th birthday before you can apply for a Learners Permit. The learner's permit must be held for a period of 12 months. During this period, the licensee must complete 40 hours of supervised driving (6 of which should be for nighttime driving).
All first time drivers in the State of Georgia are required to take a driver's ed class called the Traffic Law and Substance Abuse and Education or the Drug and Alcohol course before applying for their learners permit. By taking this course, first time drivers learn how alcohol and other drugs affect their ability to drive, laws and responsibilities, about safe driving techniques, and how to increase their awareness on our roadways.
Prepare for the DDS Knowledge Exam
All new drivers are also required to take a written Road Rules and Road Signs knowledge test which contains questions on Georgia traffic laws, road signs and rules of safe driving.
All new drivers are encouraged to study for this driver education exam so you don't miss the opportunity to get your learners permit as soon as you reach the approved age. Online practice tests are available that provide real sample questions from the DMV Exam - Take the Georgia practice permit test now and test your driving knowledge.
Required Paperwork for your Learner's Permit
Before you head to the Georgia DMV Office, make sure you have all of the following required documents to get your instruction permit:
Two forms of identification, which must be original or certified,
Social Security Number
Signature of a parent or legal guardian with a Georgia License or ID Card
Proof of school enrollment (Georgia DDS Certificate of Attendance form)
Payment for license fees
On the Road
The minimum age for a restricted license is 16 years old, and the nighttime restriction for this age is not being allowed to drive between the hours of midnight to 6 AM. For the first 6 months, the licensee is not allowed to have passengers. For the following 6 months, they are allowed to have only one passenger under the age of 21. After that, they are allowed up to 3 passengers.
Both the nighttime driving and passenger restrictions are lifted after the licensee turns 18 years old.
Georgia Driving Permit Resources