Wisconsin DMV Practice Test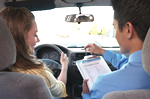 Quickly prepare for the DMV exam
Ace the test on your first try
Avoid the 50 percent failure rate
Course Summary
If you want your driving career to start off successfully, then we highly encourage you to participate in our Wisconsin DMV practice test. This prep course was created to help you become a licensed driver smoothly and instantly. With our assistance, failure is no longer an option. Take part in this reliable resource today!
details
Sign Up Now - Instant Access
Are you interested in joining our prep course?
Wouldn't you rather prepare for the DMV exam with an online course instead of an old handbook? Once you're registered and logged in, you will see 20 questions on road rules and road signs. For your benefit, these questions will be very similar to those asked on the real DMV assessment.
View correct answers with detailed explanations
As the questions will change, you can study as often as you wish
Course is 100 percent guaranteed
Your eyes aren't deceiving you - our course is completely guaranteed. After you successfully pass our road rules and road signs test at least five times each, you are guaranteed to pass the written portion of the DMV exam on your first visit. If you don't, you'll receive a full refund for the price of the course.
There are so many advantages to taking our course!
It's as simple as this: Our Wisconsin DMV practice test will ensure you become a licensed driver sooner rather than later. Why jeopardize your driving career by not properly preparing for the DMV exam? We've effectively made learning fun and easy!
Become familiar with questions similar to those on the real exam
There's no deadline - move at your own pace
A small price to pay to guarantee you become a licensed driver
Are you currently familiar with the Wisconsin Driver's Manual? Before taking our course, it's important to have some knowledge on this document. You can test your skills now with our FREE DMV practice test.
Getting your driver's license doesn't have to be a hassle!
If you're 15 years and 6 months old, then you're permitted to apply for your learner's permit in the State of Wisconsin. Once you've turned 16, have held your permit for 6 months, and have logged 30 hours of practice, you can obtain a restricted driver's license. You will be able to work towards earning your full driver's license after you've reached 16 years and 9 months.
You don't have to avoid becoming a licensed driver - the process isn't that difficult! We'll even allow you to test your driving knowledge now! We will properly educate you to ensure you achieve success at the DMV.