Washington DMV Practice Test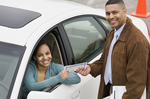 Take the DMV exam one time only
No need to prepare with study guides
Feel comfortable getting into the driver's seat
Course Summary
Are you slightly worried about taking the written portion of the DMV exam? If you need a boost of confidence, then our Washington DVM practice test was designed for you! You won't find an easier or more apt way to guarantee you become a licensed driver! You can get started right now!
details
Sign Up Now - Instant Access
Quickly earn your spot on the road!
We're sure you don't want to spend hours and hours preparing for your DMV exam. Our course is quick and simple. After you log in, 20 road rules and road sign questions will be generated. As these questions will change after each time you sign in, you'll be able to prepare as much as you want to.
It's as if you'll have the answers before taking the DMV exam
Questions are quite comparable to those on the real test
Correct answers will be given at the end of each question
After you've successfully passed our road rules and road signs tests at least five times each, we guarantee you'll pass the written portion of your driver's test on your first attempt. If you don't, you'll be given a full refund for the price of the prep course.
You'll feel at ease taking the exam!
When it comes to preparing for the DMV exam, we don't want you to feel stressed. Our Washington DMV practice test offers benefits to ensure you won't waste your time at the DMV. This course is easy to complete and will provide you with a sense of comfort when taking the real exam.
The course is offered at an inexpensive rate
You can prepare from your favorite location
Our program is stacked with stimulating material
In order to use our prep course to its full potential, it's important that you're familiar with the Washington Driver's Manual. You can test your driving knowledge now with our FREE DMV practice test.
Why wait to become a licensed driver?
If a driver is enrolled in a driving course, then he or she will be permitted to get their learner's permit at the age of 15. Otherwise, the driver will have to wait until they are 15 years and 6 months old to get their permit. Once a driver turns 16, he or she can work towards getting a restricted license. Finally, after a driver turns 17, he or she can obtain a full driver's license.
We invite you to test your driving knowledge today. We will help you learn important information, such as: traffic signs, motor vehicle laws, safe driving techniques, and more. Don't delay getting your driver's license.