Virginia DMV Practice Test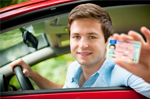 Keep your cool at the DMV
Prepare the fun and easy way
Earn a driver's license in no time
Course Summary
When you walk into the DMV to take the written portion of the exam, don't you want to have the confidence and certainty that you're going to pass? Our Virginia DMV practice test is a resource that shouldn't be skipped over. This enjoyable and affordable prep course will ensure you dominate at the local DMV.
details
Sign Up Now - Instant Access
Don't you want to drive sooner rather than later?
Your schedule probably doesn't permit a lot of study time. Our Virginia DMV practice test has eliminated the need for study guides. When you enroll, you will immediately be exposed to 20 questions centering on the subjects of road safety and road signs. The right answers and detailed explanations will be given at the end of each question.
You have the ability to practice whenever you want
You'll breeze right through the written exam
Become a safe and dependable driver
Before you take our prep course, we ask that you are familiar with the Virginia Driver's Manual. Do you think you know everything you need to? Why not take our FREE DMV practice test to see where your skills currently rank?
Steer your driving career in the right direction!
If you're 15 years and 6 months old, then you are legally able to apply for your learner's permit. You will have to retain this permit for 9 months and log 45 driving hours, 15 of which must be at night. After you've turned 16 years and 3 months old, you can earn a restricted driver's license. Those living in the State of Virginia won't be permitted to obtain a full driver's license until they've turned 18.
Why would you even consider taking the written portion of the DMV exam more than once? Measure your driving knowledge today and make sure you're out on the open road as soon as you legally can be!