South Dakota DMV Practice Test Course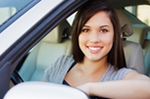 A stimulating way to prepare for the exam
Lose your fear of failing the written test
Practice until you're comfortable and confident
Course Summary
Our South Dakota DMV practice test has helped plenty of other drivers; now it's your turn to try it out! Sure, this prep course may be swift and simple, but it's also entertaining and will efficiently give you imperative knowledge to pass your DMV exam on your very first attempt!
details
Sign Up Now - Instant Access
Aren't you ready to go for a spin?
Our prep course conveniently differs from all other practice programs. Once you've logged into the site, you'll be asked 20 questions on the following subjects: road rules and road signs. These questions will be surprisingly similar to those asked on the real DMV exam.
New questions will rotate throughout the course
You can take the tests as many times as you want
You will always be given the correct answers
Our prep course even comes with a money-back guarantee. After you've successfully passed our road rules and road signs test, we guarantee your first trip to the DMV will be rewarding. However, if you don't pass the written portion of the exam on your first try, you will be given a full refund for the price of the course.
The course is stacked in your favor!
Our prep course will teach you safe driving techniques in way that is enjoyable and retainable. We want you to do well at the DMV, but it's our goal to also make sure you're safe and reliable every time you get into the driver's seat. It's not okay to speed on the road, but you'll definitely speed right through the exam.
No commuting or traveling involved
No difficult instructors to deal with
You're completely guaranteed to pass
Before signing on, you'll want to be somewhat familiar with the South Dakota Driver's Manual. If you think you're ready, take our FREE DMV practice test to confirm your skills.
You have the ability to become a licensed driver!
If you're 14 years old and currently living in the State of South Dakota, you're eligible to obtain a learner's permit. If you're 14 years and 3 months old and have participated in a driver's education course, you'll be able to work towards getting a restricted license. Otherwise, you can get a restricted driver's license when you're 14 years and 6 months old. Once you turn 16, you can work towards securing your full driver's license.
The key to succeeding is preparation! We are giving you the opportunity to test your driving knowledge! Don't waste your time or money-ensure you're ready for the DMV.