South Carolina DMV Practice Test Course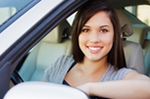 Successfully pass your DMV exam
Practice as many times as you want
Our prep course is completely affordable
Course Summary
We truly believe we can help you become a licensed driver. We encourage you to take advantage of our South Carolina DMV practice test to ensure you pass the actual exam on your very first attempt. You'll undoubtedly find our prep course to be simple, stimulating, and extremely beneficial. This course is highly affordable and will assist you in becoming a licensed driver.
details
Sign Up Now - Instant Access
With our help, you'll be driving in no time!
Before enrolling in our prep course, you'll probably want to know how the program works. After you register for the class, you'll be asked 20 different questions. These assessments will be stacked with road rules and road sign questions. Correct answers and detailed explanations will be given at the end of each question.
New questions form after each time you sign in
Feel free to practice as often as needed
Questions mirror those on the real DMV exam
One factor that makes our prep course so popular is the fact that it's completely guaranteed. If you successfully complete our road rules and road signs tests at least five times each, then we guarantee you'll pass the written portion of the DMV exam on your first try. If you don't happen to, you'll receive a full refund for the price of the course. It's a pretty good deal, right?
Our course is loaded with surprises!
We don't want to create more stress for you, which is why we've developed this prep course in the first place. You won't be able to find another program that is this much fun or simple to use. We will fully prepare you for the DMV exam in a way that no other course possibly can. Don't start tomorrow when you can begin today!
Don't waste time flipping through boring handbooks
You'll have no problem retaining the information
Practice whenever your schedule sees fit
Are you already familiar with the South Carolina Driver's Manual? You'll want to have knowledge on this document. Take our FREE DMV practice test to see how much you currently know.
Are you ready to drive freely?
In the State of South Carolina, you'll have to be at least 15 years old before you can obtain a learner's permit. If you want to gain a restricted driver's license, then you'll have to be at least 15 years and 6 months old. Only when you've turned 16 years and 6 months old, can you work towards gaining your driver's license. Other rules apply, specifically if you'll be driving on a restricted license.
Why not test your driving knowledge now? There are various areas of road safety you'll be required to be informed on. Start preparing now and ensure you receive your driver's license as soon as you're legally able to.