Ohio DMV Practice Test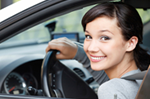 Designed with your needs in mind
Comprehensive, convenient, and effective
Guaranteed results for peace of mind
Course Summary
Modeled after official license exam
Covers the same topics and concepts
Offered entirely online
Thousands of sample questions
Comes with a money-back guarantee
details
Sign Up Now - Instant Access
Enroll Today. Pass Tomorrow.
In conjunction with industry experts, we have developed our Ohio DMV practice test to be user-friendly, convenient, and effective. If you are currently in the process of preparing for your driver's license test, we encourage you to take advantage of this resource. We are confident that you will find it to be a much better resource than the official state driver handbook. The process for preparing for your exam is made easy with our DMV practice test. Simply:
Enroll online
Take a practice test
Learn which answers you got incorrect
Repeat the process as many times as you want
Each time that you log in or take one of our practice tests, you will be presented with 20 random questions on road signage identification, road rules, and proper driving techniques. No two tests are the same!
All of the Info You Need, None of the Clutter
What distinguishes our Ohio DMV practice test from other study resources, such as the official state driver handbook, is that our guide has been developed with a specific goal in mind: to familiarize you with the actual license exam so that you can go into it prepared and ready. Other study resources are more global in their approach; as a result, they are less effective study guides because they make the task of retaining important information more difficult. This isn't the case with our Ohio DMV practice test. It offers a number of benefits, including:
Modeled after official license exam
Available online across a range of mobile devices
Familiarizes you with key concepts, topics, and questions
Unlimited retakes are available
The Graduated Driver Licensing Process
If you are at least 15 years, 6 months of age and an Ohio resident, you can be issued a Temporary Instruction Permit Identification Card (TIPIC). In order to earn your temporary instruction permit, you must furnish the following:
Proof of identification
Social Security card
Proof of citizenship
Proof of residency
Proof of parental consent
You must also complete a state-approved driver education course before you can be issued your instruction permit. These courses are given by high schools, licensed commercial driver training schools, and driver education programs provided by military.