New York DMV Practice Test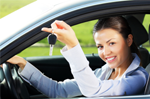 Designed with ease of use in mind
Convenient, affordable, and effective
Money-back guarantee provided
Course Summary
Includes the same questions as the official exam
Covers the same topics as the official exam
Includes same format as the official exam
Available entirely online, 24/7
Pass your license exam the first time!
details
Sign Up Now - Instant Access
Your Quick and Easy Study Guide
We have developed our New York DMV practice test with your needs in mind and are confident that you will find it provides everything that is necessary to prepare for the official driver license exam. This online study guide is convenient, user-friendly, practical, affordable, and effective. Each test includes 20 random questions on road rules, road signage identification, and proper driving techniques. And each test is unique; in fact, you probably won't see the same question twice! To take our New York DMV practice test, simply:
Complete the online registration process
Log in and access the course materials
Take the practice test as often as you'd like
Pass the official license exam with ease!
When you have successfully taken and passed each test - both the road rules and road signs - at least five times, we guarantee you'll pass your driver's test the FIRST time at your local New York DMV driver's license office or we will provide you with a full refund for the cost of the course!
A Course Designed Around YOUR Needs
We have developed our New York DMV practice test in response to the cumbersome and ultimately ineffective official state driver handbooks. Though these guides may be comprehensive, they don't actually do a good job of preparing you for the official license exam. And that is because they present the information that is covered in a manner that is disconnected from the actual exam. Not the case with our online New York DMV practice test. Our online study guides are beneficial because:
They are modeled after the official exam
They are designed to be user-friendly and intuitive
They are designed to PREPARE you for the exam
We are confident that you'll appreciate the difference. So confident, in fact, that we offer a 100% money-back guarantee!
Want to Earn Your Driver's License? Here's How:
In the State of New York, you must be 16 years of age or older to apply for a learner permit. In order to do so, you must furnish proof of parental consent (assuming you are a minor), proof of identity, and your social security card. When you apply for your learner permit, you will be required to pass a vision test (unless you provide a valid form MV-619) and a written knowledge exam. Passing the knowledge test successfully requires answering at least 14 of 20 questions correctly. Once your permit has been issued, you will be granted restricted driving privileges that will allow you to gain invaluable behind-the-wheel experience.