New Mexico DMV Practice Test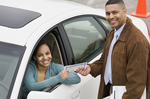 Go into your test prepared
Study from home or the bus
Guaranteed results
Course Summary
Familiarize yourself with key concepts
Familiarize yourself with the test format
See the questions before taking the test
Study guide is available 24/7 entirely online
Guaranteed results!
details
Sign Up Now - Instant Access
Study with Our Practice Test. Pass the Real Test!
Taking advantage of our New Mexico DMV practice test is easy. All you have to do is enroll online and you'll be granted with instant access to the course materials. Each time that you log in or take the practice test, you'll be presented with 20 random questions covering a range of topics, including road rules, road signage, and proper driving techniques. With thousands of questions in our database, the odds are good that you'll never see the same question twice! If you want to pass your license test on your first try, guaranteed, simply:
Enroll for our New Mexico DMV practice test
Take and complete our practice test at least three times
Take the official state license test with confidence and PASS with ease!
Same Questions. Same Format. Same Concepts.
Our New Mexico DMV practice test is such a great resource because it is modeled after the very test that you're studying for - the official state exam. It features the same types of questions that are found on the official test, and these questions are presented in the same format. In other words, our DMV practice test in essence allows you to see the driver's license exam before ever setting foot in the motor vehicle office! And for your convenience, this guide is available entirely online. The benefits are clear:
Study when you want, where you want
Become familiar with test questions and format
Go into your test prepared and ready
How to Complete the Graduated Driver License Program
As with most states, New Mexico has a graduated driver license (GDL) program for first-time drivers under the age of 18. The first step in this process is obtaining an instructional permit. A teen driver must be at least 15 years of age to apply for this permit. In order to apply, the applicant must visit a New Mexico motor vehicle department office with a proof of identification number, a proof of identity, and two proofs of New Mexico residency. One form of identification must also have a birth date on it.
Once these criteria have been met, the applicant will be required to take and pass a vision test as well as an MVD written knowledge exam (unless this requirement has been met through an MVD-contracted driver education program). Upon furnishing a TSB-approved driver education school referral card, an instruction permit will be issued that provides limited driving privileges.