Montana DMV Practice Test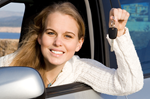 Go into your test prepared and ready!
Familiarize yourself with key concepts!
Offered with a money-back guarantee!
Course Summary
Take your written test with confidence
Study anytime, anywhere - it's up to you!
Ditch the official state handbook!
Affordable and convenient!
100% money-back guarantee
details
Sign Up Now - Instant Access
Do You Want to Pass Your Test, Guaranteed? We Can Help!
With our online Montana DMV practice test, you can familiarize yourself with the key concepts on the official state exam. Why go into your test unprepared when you can take the "test" before ever setting foot in the motor vehicle office. Our test allows you to study with the same types of questions that will be found on the actual exam - and there's no limit to how many sample tests you can take! How's it work? It's simple:
Enroll online today for instant access
Take a sample test with 20 random questions covering road rules and signage
Retake the test as many times as you like; it's different each time!
You have everything to gain and nothing to lose so we encourage you to enroll now! You'll pass your test on the first time, guaranteed!
A Study Guide Designed Just for You!
The benefits of our Montana DMV practice test are many. It is convenient, affordable, practical, and effective! If you study using our DMV practice test, we guarantee that you'll pass on your first try or your money back! It's a fool-proof system of earning your driver's license. On top of that, we have designed our Montana DMV practice test with your needs in mind. It is:
Fun, easy to use, and engaging
A great resource to learn the fundamentals
Available 24 hours a day from any Internet-enabled smart device
Why study with the handbook at the library when you can study from your tablet at the coffee shop? You'll be driving in no time!
Here's How to Get Your Montana Driver's License
In the State of Montana, all drivers under 18 must pass the graduated driver license program and have parental consent before they can earn their driving privileges. New drivers will also be required to pass written, vision, and driving tests to demonstrate that they can safely operate a motor vehicle on public roads. When applying for your driver's license, you should go to the motor vehicle office prepared - take advantage of our Montana DMV practice test and be sure to provide:
Proof of identity
Proof of Montana residency
Proof of authorized presence
Montana Driver's License Resources