Maryland DMV Practice Test Course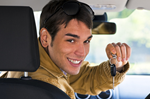 Course is completely online and easy to use
Course has been proven to be effective
Pass your written test without any struggles
Course Summary
No one likes to take tests, so why would you want to take your DMV exam more than once? If you choose to prepare with our Maryland DMV practice test, you'll be granting yourself the opportunity to pass the written portion of the test on your very first try. Don't wait to become a licensed driver-use our fun and easy course to avoid failing and pass today!
details
Sign Up Now - Instant Access
It won't even feel like you're studying!
You no longer need the textbook, so close it. Our prep course is entirely online and the registration process is simple. You'll be given 20 questions that focus on road rules and road signs. You'll enjoy knowing that these questions are very close to the ones asked on the real DMV exam.
Questions change after each time you log in
The right answers will always be provided
You can take the practice test again and again
One of the best features offered by our prep course is the fact that it's completely guaranteed. After you've successfully completed our road rules and road signs tests at least five times each, we have no doubt that you'll pass the written portion of the DMV exam on your first attempt or you'll receive a refund.
There's no reason NOT to take this course!
We know that driving can often be a stressful process, which is why we've made our preparation course a complete walk in the park. Our techniques have been proven to be quite effective. You're not only guaranteed to pass the DMV exam, but you'll be able to show yourself and everyone else that you're a competent driver!
Quickly learn the information you need to succeed
Go to the DMV with confidence and knowledge
Become a licensed driver sooner instead of later
Before you get started, you'll want to make sure you're familiar with the Maryland Driver's Manual. We invite you to take our FREE DMV practice test to assess your current knowledge of this document.
We'll make sure you're sitting behind the wheel in no time!
If you're currently living in Maryland, you may be interested in these driver's license facts: You must be 15 years and 9 months old before you can retrieve your learner's permit. You will then have to carry this permit for nine months and log 60 practice hours. If you're 16 years and 6 months old, you'll then be able to go for a restricted driver's license. Only when you're 18 years or older, can you then strive for a full driver's license.
We recommend you test your driving knowledge now! There's no reason to walk into the DMV unprepared. You can achieve success on your very first try!
Maryland Driver's License Resources