DMV Practice Test for Your Louisiana Driver's License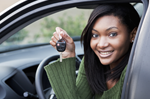 Our course is completely easy to access
You'll be sure to pass the written portion of the DMV exam
You'll have unlimited chances to practice
Course Summary
Becoming a licensed driver will be a major event in your life; it's important to do it right the first time. Take advantage of our Louisiana DMV practice test to ensure you have a successful future as a driver. Our prep course is completely guaranteed and will allow you to avoid typical handbooks and study guides. If you need a boost of confidence, you've come to the right place.
details
Sign Up Now - Instant Access
This prep course was designed for drivers like you!
You probably already have a full schedule. Therefore, we've developed a course that can easily be participated in. As soon as you enroll, you'll be asked 20 random questions covering two areas: road rules and road signs. To better prepare you, these questions will be almost identical to those asked on the real DMV exam.
Take the test as many times as you wish
Questions will change after each time you log in
You will always be given the right answers to the questions
To only further your learning experience, our course offers a money back guarantee. Therefore, if you don't pass the written portion of your DMV exam on your very first try - after successfully passing our road rules and road signs tests at least five times each - you'll then be given a refund for the price of the course.
Take our course and reap the rewards!
Our prep course will allow you the opportunity to fly through the pages of the real DMV exam. Our online practice test is as easy as they come. You'll definitely receive a beneficial education, but you won't be bored or distracted while do so. This technique works, so why not use it?
You can use the course whenever you want
Learn imperative information from the real DMV exam
Become fully prepared in a short amount of time
You'll need to have knowledge regarding the Louisiana Driver's Manual. Are you currently familiar with this document? Take our FREE DMV practice test to find out.
Are you ready to get behind the wheel and drive?
Before you obtain a driver's license in the State of Louisiana, you'll first have to gain your learner's permit. To do this, you'll need to be at least 15 years old. You'll have to complete 30 hours of classroom instruction and eight hours of behind the wheel driving instruction. In order to work towards a full driver's license, you'll have to be at least 17 years old or fully complete the learner's permit and intermediate license stages.
You'll need to be prepared in the following areas: traffic signs, motor vehicles laws, and safe driving techniques. Don't let failing the written portion of your DMV exam become a possibility; test your driving knowledge with us today!
Louisiana Driver's License Resources