Kentucky DMV Practice Test Course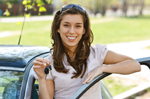 We offer a money-back guarantee
Become familiar with DMV test questions
Prepare according to your own schedule
Course Summary
After you successfully complete our prep course, you'll be able to enter the DMV with a complete level of confidence. Prove that you're a prepared, dependable driver. We will provide you with a fun and efficient training tool that will eliminate the option of failing. Our Kentucky DMV practice test is guaranteed to work, so test it out today.
details
Sign Up Now - Instant Access
Let us help you become a licensed driver!
Don't worry about participating in a class; our prep course is unconventional and quite entertaining! This is how our online course works: Once you log in, 20 road rules and road sign questions will appear. The test has been designed so that you can take it as many times as you want. The assessment will change after each time you sign in.
View questions similar to those on the DMV exam
Correct answers and explanations given after each question
Learn important safe driving techniques
It's our pleasure to provide a money-back guarantee on our course. What this means exactly is that after you've successfully passed our road rules and road signs tests at least five times each, you'll be guaranteed to pass the written portion of your DMV exam on your first attempt. If you don't, the money you paid for our prep course will be returned to you.
Our course is stacked with incentives to better assist you!
You don't want to go to the DMV more than once, do you? If you prepare with us, the written portion of the DMV exam will be a cinch! Proven to work, this prep course combines two important qualities: entertainment and effectiveness. Our stimulating material will keep your attention while educating you on important driving techniques.
Prepare from any location with Internet access
No study guides or handbooks to worry about
Enter the DMV with a complete level of confidence
Don't waste another minute; take our FREE DMV practice test now and see if you're familiar with the Kentucky Driver's Manual.
Are you ready to go for a spin on the open road?
When it comes to getting your driver's license in the State of Kentucky, there are various requirements you'll undoubtedly be interested in learning. For example, you won't be able to get your learner's permit until you're 16 years old. You will have to have this permit for six months and log 60 practice hours. You won't be permitted to earn a full license until you are at least 17 years old.
You'll need to pass a written exam on traffic signs, motor vehicle laws, and safe driving techniques. Why not start preparing today? Test your driving knowledge and become a licensed driver sooner rather than later.
Kentucky Driver's License Resources