Iowa DMV Practice Test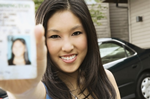 Gain the confidence and skills you need
Course is fast, fun, and efficient
No handbooks or study guides
Course Summary
Don't you want to be able to take your DMV exam and know that you're going to pass? Our Iowa DMV practice test will allow you to accomplish this goal. When you decide to prepare with our course, you'll be guaranteed to pass the written portion of the exam on your very first try. You won't find a more effective or affordable way to become a licensed driver.
details
Sign Up Now - Instant Access
Make your first trip to the DMV a success!
You'll have no issues using our prep course; it's easy to navigate! Once you've registered, you'll be given 20 different questions reflecting road rules and road signs. New questions will constantly be given, so feel free to take this test as often as needed.
Questions similar to those asked on real DMV exam
Correct answers and detailed explanations will always be given
Learn important road safety skills and techniques
It's important to know that our course is entirely guaranteed. Therefore, if you don't pass the DMV written exam on your very first attempt (of course, after successfully completing our road rules and road signs tests at least five times each), then you will be given a full refund.
We've stacked our course with plenty of benefits!
When you go to the DMV to take your exam, we want you to feel comfortable and relaxed. Therefore, we've developed this hassle-free program. Our teaching methods have proven to be quite successful. We'll help you prepare for your license and get ready for the road ahead.
Prepare from your favorite location
Unlimited chances to practice
Offered at an affordable rate
Do you think you have what it takes to prosper? You can conveniently test your skills now by taking our FREE DMV practice test.
Are you ready to hit the open road?
Do you believe you're ready to become a licensed driver? Before you can get a valid driver's license in the State of Iowa, you'll first have to obtain a learner's permit. If you are at least fifteen years old and wish to pursue your license, you will first have to complete a driver's education program.
Don't you want to become a licensed driver as soon as you're legally able to? You can start preparing today! Test your driving knowledge and ensure you're ready to pass the DMV exam on your very first try.