Idaho DMV Practice Test Course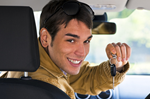 Have fun getting prepared for the knowledge test
Our course is affordable and easy to access
You're guaranteed to pass the actual exam
Course Summary
You no longer have to worry about taking the written portion of your DMV exam. Our Idaho DMV practice test was developed to give you the skills and knowledge you need to rock the actual exam. Not only will you become fully prepared, but you'll also enjoy the process of learning various road safety rules and techniques. What's stopping you from signing up today?
details
Sign Up Now - Instant Access
You don't want to take the test more than once, do you?
Our prep course is simple to navigate. After you've logged in, you'll be provided with 20 different questions regarding road rules and road signage identification questions. You'll be pleased to know that these questions are quite similar to the ones presented on the real test. Feel free to complete this assessment as often as needed.
Correct answers will be provided after each question
Gain the confidence you need to become a safe driver
New questions given after each time you log in
If you successfully pass each test - road rules and road signs - at least five times, we will then guarantee that you'll pass the written portion of the Idaho DMV driver's license exam on your very first try. If you don't, you'll be given a full refund!
This course is loaded with great benefits!
We are more than ready to prepare you for the written portion of your DMV exam. Our course is quite beneficial and rather easy to use. When you take advantage of this great opportunity, you'll have no regrets. It's important to become a safe driver, so start today.
Study at your own convenience
Become familiar with real test questions
You'll have fun while you're learning
Before you start practicing, you'll want to be familiar with the Idaho Driver's Manual. Do you think you're ready? You can take a FREE DMV practice test right now!
Are you ready to become a licensed driver?
In order to get a learner's permit in Idaho, you must be at least 14 years old. You will also be ordered to pass a written exam, as well as a skills exam. If you're ready to apply for your driver's license, you will first have to complete a driver's license education course.
In order to pass the written portion of your exam on the very first try, it's recommend that you study and prepare. You'll find being familiar with traffic signs, motor vehicle laws, and safe driving techniques to be quite imperative. You can test your skills right now!