Delaware DMV Practice Test Course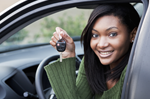 Know the answers before you take the knowledge test
Offered on a money-back guarantee
Unlimited DMV practice tests with the course
Course Summary
This FAST and EASY course allows you to pass your written exam with CONFIDENCE, eliminates the need to study textbooks, and helps you to avoid the 50 percent failure rate. Perhaps best of all, this course is offered on a money-back guarantee.
details
Sign Up Now - Instant Access
Pass you driver's license written test the first time!
Here is how our Delaware DMV practice test course works: Once you log in as a user, you will be given 20 random road rules and road sign questions similar to those on your DE driver's license test. You are allowed to complete the test as many times as you would like, because the questions change each time you log in. If you answer incorrectly, the correct answer will directly follow the question, along with detailed explanations.
Like having the answers BEFORE you take the test!
Available on a money-back guarantee!
Easily learn the Road Signs and Road Rules Tests.
Once you have successfully passed each test at least five times, we guarantee that you will pass you driver's test the FIRST time at your local Delaware DMV office, or we will refund the entire cost of your course!
Take the smart way to pass your Delaware driver's license exam!
When you take this course, you will receive the best preparation available to prepare you for your Delaware driver's license exam! The course has been designed for training our military personnel, and can not only guarantee that you pass the course, but will drive away with a strong background as a safe driver.
Unlimited attempts for practice exams, including our money-back guarantee
Learn the Rules of the Road and Road Signs
A fun, efficient, and comprehensive course
We cannot stress enough that our applicants need to be familiar with the Delaware Driver's Manual. If you think you have a strong grasp on the material, take the FREE Delaware DMV practice test today!
Under Delaware DMV guidelines, you must be 17 years old to apply for a Delaware Driver's License.
First Time Drivers
If this is your first driver's license, you will ultimately apply for your Delaware learner's permit, for which you must pass a written test on road rules and road signs, motor vehicle laws, and safe driving techniques. After you acquire your permit, you need to pass a road skills and vision test to get your driver's license.
Prepare for the Written Knowledge Test
The DMV also requires that all licensees must pass a written exam that covers traffic signs, motor vehicle laws and safe driving techniques. If you unfortunately fail the exam on your initial attempt, do not fret, for, most states require you to wait until at least the next day to take the test again.
Test your driving knowledge today! Here at Test Questions and Answers, we encourage our drivers to enroll in our comprehensive program. In doing so, you take advantage of the countless benefits as lain before you.
Delaware Driver's License Resources