West Virginia Learner's Permit Practice Test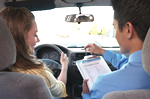 Prepare the simple and exciting way
Course conveniently offered online
Make sure you only go to the DMV one time
About the Course
Stressing over the DMV permit exam will only hinder your chances of passing the test. If you want to be able to drive as soon as it's legally possible, then we highly encourage you to participate in our West Virginia learner's permit practice test. Backed by a proven track record, we will make sure you reach the highest potential possible at the DMV. Don't wait any longer to earn your spot in that driver's seat!
details
Sign Up Now - Instant Access
Details on the Course
Becoming a secure driver is very important. However, we understand that you probably don't have an abundance of extra time to add another learning course to your schedule. Therefore, we've made sure to make our program as stress-free as possible. Simply put: You'll be asked 20 questions on roads rules and road signs.
Questions mirror those presented on the DMV exam
Over 1,500 questions in the database, so prepare as much as you want
You'll always be given correct answers and detailed explanations
We've saved the best detail for last: Our West Virginia learner's permit practice test is completely guaranteed. If you successfully pass our road rules and road tests at least five times each, then we'll guarantee you receive your learner's permit on your first try. If you don't, then you will receive a refund for the price of our course.
Course Incentives
We'll make sure you're driving sooner rather than later-it's as easy as that. We don't want you to suffer through or dread participating in our program; therefore, we've included plenty of incentives to make this an enjoyable procedure.
Become fully prepared in a short period of time
The course is always available - morning, noon, and night
Don't waste time or money - pass the first time
It's imperative for all of our applicants to be familiar with the West Virginia Driver's Manual. Do you think you're ready to test your skills? We invite you to take our DMV practice test today.
Get a Learner's Permit
Before you can get a learner's permit in West Virginia, you must be 15 years and 6 months old. However, if you present a traffic safety education certification, then you'll be eligible to apply for a permit at the age of 15. This permit will have to be held for at least 6 months, during which time you will need to log 50 hours of driving.
Don't hesitate to obtain your learner's permit. All you have to do is enroll in our practice permit test course - we'll take care of the rest. You'll be educated in a range of subjects and be given proper tools to succeed.
West Virginia DMV Graduated Driver License Laws
Stage One - Learners Permit: A new driver must be at least 15 years old to apply for an instruction permit. The required holding period for an instruction permit is 6 months. The licensee must complete 50 hours of driving time, 10 for nighttime driving. If the licensee has taken driver education, no hours are required.
Learner's permit holders younger than 18 may not drive 10 pm-5 am and may not carry more than 2 passengers in addition to the supervising driver.
Stage Two - Intermediate License: The licensee must be at least 16 years old to qualify for an intermediate license. The nighttime restriction for an intermediate license is not being allowed to drive between the hours of 10 PM to 5 AM. For the first 6 months, the licensee isn't allowed to have any passengers younger than 20, for the second 6 months, the licensee isn't allowed to have more than one passenger under 20.
Stage Three - Full License: In order to remove the nighttime and passenger restriction, the licensee must be 17 years old.
West Virginia New Driver Resources