Washington Learner's Permit Practice Test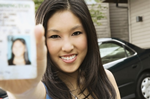 Teaching methods proven to be effective
Take our course from any location
Become fully prepared in a timely manner
Course Summary
You want to prove that you're a safe and dependable driver, right? Our Washington learner's permit practice test can help you accomplish many goals, especially passing the DMV exam on your very first try. We don't want you to risk failing the test, so we've created a program that is user-friendly and stimulating to use. You can even register and start today!
details
Sign Up Now - Instant Access
Course Details
We know you don't have a lot of free time to devote to taking a course. Therefore, we've designed our program to be simple. After you've successfully enrolled, you will be given 20 random questions that focus on road rules and road signs. For your benefit, these questions are extremely close to those asked on the real DMV exam.
Accurate answers will always be given at the end of each question
You will have an unlimited amount of chances to take the test
New questions will appear after each time you sign in
Only after you've completed and passed each test - road rules and road signs - at least five times each, will we then guarantee you obtain your learner's permit on your first try. If you don't happen to do well at the DMV, you will receive a refund for the price of our Washington learner's permit practice test.
The Benefits
We want you to be excited about taking our course, which is why we've made sure to include numerous incentives for those who decide to enroll. After all, if you're enjoying yourself, you'll retain more of the information presented to you.
Receive the absolute best preparation available
Course is easy to access and interactive
Avoid the 50 percent failure rate
As of now, are you familiar with the Washington Driver's Manual? You will want to be educated on this document. If you think you've got what it takes to succeed, then test your road skills and take our DMV practice test.
Washington Learner' Permit
In the State of Washington, you will have to be 15 years and 6 months old before you can legally apply for a learner's permit. However, if you present a traffic safety education certificate, then you'll be permitted to get your permit at the age of 15. This permit will have to be held for at least 6 months, in which time 50 hours of driving will have to be logged. 10 of these hours will have to be driven at night.
Are you ready to take our practice permit test? You don't want to risk failing at the DMV, as you may have to wait a day before you can retake the test. Enroll in our prep course and ensure you receive your permit on your first attempt!
Washington DMV Graduated Driver License Laws
Stage One - Learners Permit: A new driver must be at least 15 years old to apply for a learner's permit. The required holding period for a learner's permit is 6 months. The licensee must complete 50 hours of driving time, 10 of which should be done at night to be eligible for a restricted license.
Stage Two - Intermediate License: The licensee must be at least 16 years and 6 months old to qualify for an intermediate license. The nighttime restriction for the intermediate license is not being allowed to drive between the hours of 1 AM to 5 AM. For the first 6 months, the licensee is not allowed to have passengers under the age of 20. For the next 6 months, the licensee is not allowed to have more than 3 passengers under the age of 20.
Stage Three - Full License: In order to remove the nighttime and passenger restriction, the licensee must be 17 years old.