Vermont Learner's Permit Practice Test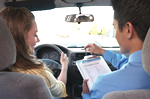 Course is convenient and easy to use
Become equipped with confidence and skills
Learn safe driving techniques and maneuvers
Our Course Summary
Have you actively been looking for a course to help you prepare for your permit test? Congrats, you've effectively found a program that will get you ready for the DMV exam! Backed by proven results, our Vermont learner's permit practice test will assist you in a way that other classes can't. When you enroll, you will be guaranteed to succeed, so try us out today!
details
Sign Up Now - Instant Access
Specifics about the Course
Because our prep course is completely online, you can essentially work wherever and whenever your schedule sees fit. Here's how the course works: Once you're logged in, you will be given 20 road rules and road sign questions. To better prepare you, these questions will be very similar to the ones asked on the real DMV exam.
Correct answers and explanations will be given
New questions will constantly generate, preparing you only further
Take the prep course until you are completely comfortable and confident
We want you to be completely satisfied with our Vermont learner's permit practice test, which is why it's completely guaranteed. After you've taken and passed our road rules and road signs tests at least five times each, we guarantee you'll get your learner's permit on your first try. If you don't, we'll gladly refund you the money spent on our course.
Benefits of the Course
We're pleased and honored to be able to help you get your learner's permit as soon as you're legally able to. We don't want our prep course to be compared to a typical classroom setting, which is why we've stacked it with some great benefits.
Become exposed to safe driving techniques
Quickly become familiar with the real DMV exam layout
Make your first trip to the DMV a success
Are you currently familiar with the Vermont Driver's Manual? Do you think you have what it takes to conquer the DMV exam? You can test your driving skills now by taking our DMV practice test.
Getting a Learner's Permit
Living in the State of Vermont, you will not be able to obtain your learner's permit until you are 15 years old. You will be required to pass a written exam and a vision test, as well as hold the permit for one year and log 40 hours of driving time. Before going to the DMV, make sure you have the following documents prepared: identification and proof of age, proof of social security number, proof of resident address, signature of a parent or guardian, and payment for application fee.
You no longer have to risk failing your permit test. We will make sure you're versed in the following subjects: traffic signs, motor vehicle laws, and safe driving techniques. With our assistance, you'll pass the exam without any complications. Take our test today and get started!
Vermont DMV Graduated Driver License Laws
Stage One - Learners Permit: A new driver must be at least 15 years old to apply for a learner's permit. The required holding period for a learner's permit is 12 months. The licensee must complete 40 hours of driving time during this phase, 10 of which should be for nighttime driving.
To apply for a Learner's Permit, an individual (who is 15, 16, or 17 years old) must have maintained a "clean" driving record in the previous two (2) years. An individual fifteen years of age or older may operate a motor vehicle if they hold a valid learner's permit and are accompanied by a licensed and unimpaired parent or guardian, a licensed and unimpaired driver education instructor or a licensed and unimpaired person at least twenty-five years of age.
Stage Two - Restricted License: Before applying for a junior operator's license, the driver must be at least 16 years old. For the first 3 months, the licensee is not allowed to have any passengers, for the next 3 months, the licensee is not allowed to have any passengers except for family members.
Stage Three - Full Operator's License: In order to get a full operator's license in Vermont, the licensee must be at least 16 years and 6 months old.