Oregon Learners Permit Practice Test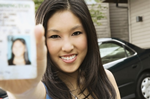 Oregon Learners Permit Guidelines
How to Prepare for the Written Exam
Required ID and Paperwork
Course Summary
Are you currently in the process of obtaining your learners permit or driver's license? If so, we can help at Test Questions and Answers. With our Oregon learners permit practice test, you can prepare for the written test in advance by answering sample questions covering the same topics and concepts. In fact, even the test format is the same for your benefit. Enroll today!
details
Sign Up Now - Instant Access
Here is how the permit practice test works:
Once you log in to your account, you will take our Oregon learners permit practice test, which consists of 20 random questions selected from our database covering a range of topics, including road rules and road signage identification. What's great about our practice test is that you can take it as many times as you like, for the questions change each time you log in.
Know the answers BEFORE you take the DMV Exam!
Easily learn road rules and road signage recognition
Take our test as often as you like - there's no limit
Take the Oregon practice permit test now to test your driving knowledge.
The smart way to pass your driver's license exam!
Don't take a chance of standing in line at the DMV office only to go home empty-handed. Take advantage of our Oregon learners permit practice test and give yourself the upper hand!
Course Benefits for First Time Driver
You will receive the best preparation available to pass your driving permit test
Studying for your permit exam is made easy with this resource
Learn the fundamentals: road rules, road signage, and safe driving techniques
Course Benefits for Parents
Our permit practice test is modeled after the official state exam, allowing your son or daughter to prepare with a version that will familiarize them with the core elements
When your son or daughter has successfully taken and passed the test at least five times, we GUARANTEE that they will pass the test - or your money back
Course is approved by the National Safety Commission
Oregon GDL Laws
Stage One - Learner Permit
A new driver must be at least 15 years and 6 months old to apply for a learner permit. You must hold this permit for 6 months and complete 50 hours of driving time, ten of which should be at night, before you can apply for an intermediate license.
Stage Two - Intermediate License
Before applying for an intermediate license, the driver must be at least 16 years old. Nighttime restrictions for this intermediate license include not being allowed to driver between 10pm to 5am. The Licensee in not allowed to have more than one passenger at a time!
Stage Three - Unrestricted License
Nighttime driving and passenger restrictions in Oregon may be removed once the licensee reaches 16 years and 6 months old.
Enroll in our comprehensive course today!
Register for our Oregon learners permit practice test course today! You will be able to reap the benefits of this course immediately. So enroll today to take advantage of all we have to offer!