Oklahoma Learner Permit Practice Test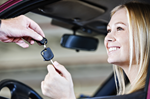 Oklahoma Learner Permit Guidelines
Required ID and Paperwork
How to Prepare for the written exam
Course Summary
Our Oklahoma learners permit practice test is a tremendous resource that can help you pass the official written permit exam with ease. Modeled after the official exam, it contains everything that you need to become familiar with the key concepts that you will be tested on. You have nothing to lose and everything to gain, so please enroll today!
details
Sign Up Now - Instant Access
How the permit practice test works:
Prepare for your driving permit online with our Oklahoma learners permit practice test course! You will get to see over 1,500 questions and answers similar to those found on the DMV test, along with detailed explanations that outline the correct answers. Each time that you take the test, you will be presented with 20 random questions on road rules, safe driving techniques, and road signage identification - just like the official exam!
"Take" the test BEFORE you take the DMV permit exam!
Become better acquainted with Road Signs and Road Rules
Unlimited retakes are encouraged - after all, practice makes perfect
This is the smart way to pass your driver's license exam!
Course Benefits for First Time Driver
Go into your permit exam with confidence knowing that you are prepared
We have designed this course to be fun, easy, and interactive
Learn the Rules of the Road and be able to accurately identify Road Signs
Course Benefits for Parents
Developed with the help of industry experts, our online Oklahoma learners permit practice test is a tremendously effective resource
Your teen will be able to pass the official permit exam with ease, as the test questions and format will already be familiar to him or her
This course is approved by the National Safety Commission
Take the Oklahoma practice permit test now and test your driving knowledge.
Oklahoma GDL Laws
During the learner's permit phase, the licensee must complete 50 hours of driving time, 10 of which should be dedicated to nighttime driving. In order to receive your intermediate license, the driver needs to be at least 16 years old. The nighttime restriction for an intermediate license is not being allowed to drive between 10pm and 5am. Nighttime driving and passenger restrictions for Oklahoma drivers can be removed by the age of 16 years, 6 months old (17 if the licensee has not taken driver education).
Enroll in our comprehensive course today!
By enrolling in our Oklahoma learner's permit course, you are making strides in the right direction. The sooner you enroll the better. We can guarantee that you will be satisfied with the results!