Kansas Learner's Permit Practice Test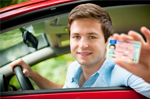 Quickly become a success behind the wheel
Prepare using the new and fun method
This course works - proven results
Course Summary
Why start preparing for the DMV exam tomorrow when you can begin the process right now? Sure, you probably don't want to spend your free time studying or participating in a prep course, but our Kansas learner's permit practice test is completely different than other programs. We've successfully combined the elements of simplicity and accessibility to ensure you only make one trip to the local DMV.
details
Sign Up Now - Instant Access
Are you ready to get started? Here's how the program works: After you sign in, you'll see 20 random questions regarding road rules and road signs. For your benefit and to verify you'll do well on the real exam, these questions will be almost identical to the ones asked at the DMV.
New questions will constantly be rotated throughout the course
There are no deadlines - move at your own pace
You'll avoid the 50 percent failure rate
Did you know that our Kansas learner's permit practice test is completely guaranteed? Once you pass our road rules and road signs tests at least five times each, we guarantee you'll pass the DMV exam on your first attempt. Otherwise, we'll proudly present you with a full refund.
When designing this prep course, we've made sure to use only stimulating facts and tools that are effective and resourceful. We want you to get the most for your money and time, but we also want you to be able to recommend our program to your friends and relatives. It's our goal to assist as many drivers as possible.
Have no trouble retaining course information
Gain skills quickly and efficiently
Prove that you're a capable and confident driver
Before you're ready to participate in this program, we do ask that you're familiar with the Kansas Driver's Manual. Do you have what it takes to prosper? Give our DMV practice test a shot and see what skills you currently possess.
Try Sample Test!
If you're 14 years old, then you can legally apply for a learner's permit in the State of Kansas. You will have to hold this permit for 12 months, as well as complete 25 hours of supervised driving. Before you travel to the DMV, make sure you have the following items: identification and proof of age, proof of social security number, proof of residence address, parental consent, and payment for application fee.
We will happily prepare you for the DMV exam and educate you in the following areas: traffic signs, motor vehicle laws, and safe driving techniques. However, you have to register, so why not get started today? Take our practice permit test - it was developed for drivers like you!