Iowa Learner's Permit Practice Test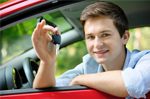 Don't wait to earn your learner's permit
No boring study guides to use
Pass the DMV exam with confidence
Course Summary
Are you ready to hit the open road and learn various techniques that will ensure you become a successful driver? Our Iowa learner's permit practice test shouldn't be skipped over. When you enroll, you'll immediately gain access to questions and information presented on the real DMV exam. You no longer have a reason to panic over test day. With our assistance, you'll be ready to achieve victory.
details
Sign Up Now - Instant Access
The process of our program is quite simple, meaning you can focus on learning instead of trying to navigate the site. First, you'll enroll and be asked 20 road rules and road sign questions. You will notice that these questions will change after each time you sign in. Therefore, you'll be permitted to take the course over and over.
Questions mirror those on the real DMV exam
Real answers and explanations incorporated into the program
Unlimited amount of opportunities to study and prepare
You won't fail-our Iowa learner's permit practice test is completely guaranteed. If you don't accomplish success on your first visit to the DMV, after passing our road rules and road signs tests at least five times each, you will receive a full refund for the price of our course.
Preparing for an exam usually isn't simple or fun, but now it can be. We believe that the more entertained you are during the learning process, the more information you will retain. You won't even have to devote much time to our program. Whether you choose to work in the morning or evening, our course will always be available.
You only need Internet access to get started
You'll be fully prepared in no time
You can start as soon as today
If you're familiar with the Iowa Driver's Manual, then you're ready to start preparing for the real exam. Measure your knowledge today and take our DMV practice test.
Try Sample Test!
If you want to apply for your learner's permit in the State of Iowa, you'll have to wait until your 14th birthday to do so. You will have to hold this permit for 6 months and complete 20 hours of supervised driving. You will also be required to pass a written exam and a vision test.
When it comes to traffic signs, motor vehicle laws, and safe driving techniques, are your skills up to par? You want to pass the exam and receive your learner's permit on your first try, right? Take our permit practice test and cancel out any possibilities of failing.