Wyoming Motorcycle Practice Test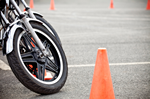 Designed to be convenient and practical
Modeled after the official exam for your benefit
Our resource has been proven effective
details
Sign Up Now - Instant Access
Course Summary
Hundreds of sample questions
Unlimited retakes available
24/7 online access
Compatible with mobile devices
Guaranteed results - or your money back
Access Time: 30-Days
Our Wyoming motorcycle practice test has been developed with the help of industry experts to be convenient, user-friendly, and effective. Each time that you log in to take our practice test, you will see 20 random questions covering:
Road rules and traffic laws
Road signage identification
Safe riding techniques
These questions are similar to those found on the state's official written exam. After each practice test, you will be provided with answers to the questions you got wrong so that you can correct these errors going forward.
Our Wyoming motorcycle practice test helps familiarize you with the questions and concepts that will be covered on the official exam so that you are prepared on test day. And to ensure that you know the materials, you can retake our test as many times as you like!
No two study guides are the same. Some, like the official driver handbook, are comprehensive but fail to present information in an accessible manner. Others may lack the depth or information that is required to adequately prepare oneself for the official exam. Our Wyoming motorcycle practice test is different.
If you are seeking a resource that provides everything that you need to pass the test (and nothing you don't), then look no further. With our online resource, you can quickly learn and retain new information that will help you answer the test questions with confidence. Don't risk failing the exam on your first try, as 50 percent of all applicants do - give yourself an unfair advantage!
We encourage you to take advantage of this online resource if you are in the process of studying for your motorcycle license. We are confident that you will find it to be effective, convenient, practical, and user-friendly. Put simply, our Wyoming motorcycle practice offers everything that you could want in a study guide - even guaranteed results!
Wyoming Motorcycle License Endorsement
Under Wyoming MVS guidelines, anyone who drives a motorcycle must have a Class M motorcycle license or motorcycle instruction permit.
Applicants must be 16 years of age, pass the motorcycle knowledge test, a sign test and a vision screening. The final step is to pass the motorcycle skills test where you will demonstrate your competency in motorcycle operation.
Like most states, Wyoming will waive your skills test and issue you a license if you complete an approved basic motorcycle rider safety course. These courses last anywhere from two to six weeks and include classroom instruction as well as driver training in a controlled, off-street environment. When you successfully complete this course, you will be eligible for your motorcycle driver's license without having to take your Wyoming road test.
All applicants need to be familiar with the Wyoming Motorcycle Driver's Manual. Think you know the material?
Take our FREE motorcycle practice test now and test your driving knowledge.
Try Sample Test!
Wyoming Motorcycle Resources