West Virginia Motorcycle Practice Test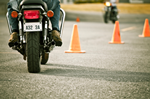 Convenient and practical guide
Modeled after the official state exam
Comes with a money-back guarantee
details
Sign Up Now - Instant Access
Course Summary
Don't risk failing your written test
Prepare in advance, entirely online
Access course materials on your tablet or smartphone
Become familiar with the test's core elements
Guaranteed results or your money back
Access Time: 30-Days
To get the most out of our West Virginia motorcycle practice test, we encourage you to take it often. With hundreds of sample test questions in our database, no two of our practice tests are the same. Each time that you log in for one of our practice tests, you will be presented with 20 random questions - just like on the official exam. And just like on the official test, these questions will cover a range of appropriate topics, including:
Road rules
Road signage
Safe riding techniques
Have an understanding of these concepts will help you answer these questions correctly. But if you don't manage to answer them correctly, there's no need to worry; we'll inform you of the correct answer when necessary, and we always encourage you to take our tests again until you get all of the answers right!
What are the benefits of our West Virginia motorcycle practice test? Why should you utilize our practice tests instead of the state's driver handbook? Fundamentally, it comes down to the effectiveness of our resource. Unlike the state's official driver handbook, which is primarily conceptual in nature, our West Virginia motorcycle practice test is practical and focused.
We have specifically modeled our West Virginia practice test after the official written exam so that you can familiarize yourself with its core elements:
Concepts and topics
Types of questions
Formatting and layout
By becoming better acquainted with these elements, you can go into your test feeling prepared and confident. When the time comes to take your test, it will be as if you've already seen it. So give yourself the unfair advantage that you deserve and enroll today! Did we mention it comes with our money-back guarantee?
West Virginia Motorcycle License Endorsement
Under West Virginia DMV guidelines, anyone who drives a motorcycle must have a Class F motorcycle license or motorcycle instruction permit.
Applicants must be 18 years of age, pass the motorcycle knowledge test, a sign test and a vision screening. The final step is to pass the motorcycle skills test where you will demonstrate your competency in motorcycle operation.
If you are under the age of 18, you must complete Level II GDL, before receiving a motorcycle instruction permit. A special Motorcycle driver handbook has been prepared to help you pass the special tests. These handbooks are available at the Division of Motor Vehicles Regional Office and Examination Centers.
Like most states, West Virginia will waive your skills test and issue you a license if you complete an approved basic motorcycle rider safety course. These courses last anywhere from two to six weeks and include classroom instruction as well as driver training in a controlled, off-street environment. When you successfully complete this course, you will be eligible for your motorcycle driver's license without having to take your West Virginia road test.
All applicants need to be familiar with the West Virginia Motorcycle Driver's Manual. Think you know the material?
Take our FREE motorcycle practice test now and test your driving knowledge.
Try Sample Test!
West Virginia Motorcycle Resources