Washington Motorcycle Practice Test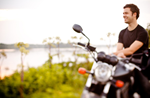 Great study tool
Proven results
Designed with your needs in mind
details
Sign Up Now - Instant Access
Course Summary
Has the same format as the official exam
Includes the same types of questions as the official exam
Covers the same concepts as the official exam
Convenient and practical online study guide
Results are guaranteed or your money back
Access Time: 30-Days
Studying for the official motorcycle exam is easy if you use our Washington motorcycle practice test. Unlike the driver handbook, which sprawls across dozens of pages and covers a wide variety of concepts and topics, our practice test contains only what you need to know the pass the test - and nothing you don't. In fact, we have specifically modeled our practice tests after the official exam for your benefit.
To take advantage of our Washington motorcycle practice test, all you have to do is:
Complete the online registration process;
Sign in and take our practice test comprised of 20 sample questions; and
Review your answers and retake the test as needed
Our database includes hundreds of sample test questions, so there is no limit to how many times you can take our practice test. As the old saying goes, "practice makes perfect," so don't be afraid to take advantage of this feature! We encourage it!
Your needs were in mind when we created our Washington motorcycle practice test. After all, we recognize that a study guide that gets left on the floor benefits no one. We want you to use our online practice tests, and so we have made them fun and engaging (not to mention user-friendly and intuitive). Among the benefits offered by our motorcycle practice tests include:
Mobile device compatible
Available entirely online
In same format as official exam
Comprehensive resource
Unlimited retakes allowed (and encouraged)
Proven effective
If you study for the official exam using our Washington motorcycle practice test, and complete it at least five times in a row, we guarantee that you'll pass your exam on the first try. You have nothing to lose and everything to gain.
Washington Motorcycle License Endorsement
Under Washington DMV guidelines, anyone who drives a motorcycle must have a Class M motorcycle license or motorcycle instruction permit.
Applicants must be 16 years of age, pass the motorcycle knowledge test, a sign test and a vision screening. The final step is to pass the motorcycle skills test where you will demonstrate your competency in motorcycle operation.
Washington will waive your knowledge and skills test and issue you a license if you complete an approved basic motorcycle rider safety course within 180 days of applying for your motorcycle endorsement. These courses last anywhere from two to six weeks and include classroom instruction as well as driver training in a controlled, off-street environment. When you successfully complete this course, you will be eligible for your motorcycle driver's license.
All applicants need to be familiar with the Washington Motorcycle Driver's Manual. Think you know the material?
Take our FREE motorcycle practice test now and test your driving knowledge.
Try Sample Test!
Washington Motorcycle Resources