Virginia Motorcycle Practice Test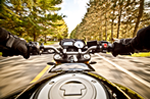 Available online
Available 24/7
Proven to be effective
details
Sign Up Now - Instant Access
Course Summary
Study with a guide modeled after the official test
Hundreds of sample test questions to answer
Study when you want, where you want
Familiarize yourself with the test's core elements
Reap the benefits of our money-back guarantee
Access Time: 30-Days
Our Virginia motorcycle practice test makes preparing for the official written exam easy. And that is because it breaks down what you need to know into simple elements. At Test Questions and Answers, we feel that the best study guide is the one that provides you with only what you need, and nothing you don't. For this reason, we have modeled our Virginia motorcycle practice test after the source - the DMV test!
Each of our practice tests - yes, tests is plural; with hundreds of sample questions in our database, you can take our practice test over and over without seeing the same question twice - has been formatted specifically to prepare you for the official exam. They each include a set of 20 questions selected at random, covering topics such as:
Road Rules
Road Signage Recognition
Safe Riding Techniques
With these questions, you can familiarize yourself with the key concepts and subjects covered on the state's written exam. When test day comes, you can go into your exam feeling confident and prepared!
We have developed our Virginia motorcycle practice test with your needs in mind. When you enroll for our online practice test, you will find a resource that is:
Convenient
Practical
Fun and engaging
Quick and easy
User-friendly
Affordable
Effective
By making you an active participant in the studying process, rather than a simple observer, we make it easier for you to quickly learn and retain new information. This familiarity will pay dividends on test day, as you'll be able to go into the written exam with confidence! You'll be so prepared, in fact, that we guarantee results or your money back!
Virginia Motorcycle License Endorsement
Under Virginia DMV guidelines, anyone who drives a motorcycle must have a Class M motorcycle license or motorcycle instruction permit.
If you already hold a valid Virginia driver's license without a motorcycle designation, you may add Class M that will allow you to also operate a motorcycle. To obtain this motorcycle designation, you must:
Pass the required vision screening
Pass the motorcycle knowledge exam
Pass the motorcycle road skills test
Providing a Virginia Rider Training Program certificate of completion that is issued after July 1, 2007 also exempts you from taking the motorcycle knowledge exam and when carried with your Virginia driver's license you may operate a motorcycle for 30 days from the date of course completion.
IF YOU ARE UNDER 19, you must also:
Pass the required vision screening
Pass the motorcycle knowledge exam
Hold a motorcycle learner's permit for 9 months
Pass the motorcycle road skills test
Provide proof of successful completion of an approved driver education program before receiving any Virginia driver's license, even if you are applying for a motorcycle-only license. This is a separate program from the Virginia Rider Training Program.
All applicants need to be familiar with the Virginia Motorcycle Driver's Manual. Think you know the material?
Take our FREE motorcycle practice test now and test your driving knowledge.
Try Sample Test!
Virginia Motorcycle Resources