Vermont Motorcycle Practice Test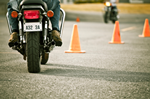 See sample test questions
Study from your phone or tablet
GUARANTEED results
details
Sign Up Now - Instant Access
Course Summary
Our practice test database has hundreds of questions
The practice test is modeled after the real test!
Accessible from mobile devices, laptops, and computers
A comprehensive resource that's incredibly practical
Take advantage of our money-back guarantee
Access Time: 30-Days
If you are currently in the process of earning your motorcycle license, we can help at Test Questions and Answers. We understand that when it comes time to prepare for an exam, you're only as good as your study materials are. For this reason, we have developed our practice tests. Our Vermont motorcycle practice test makes studying for your official exam easy - and effective. The process is simple:
Enroll online and sign in to access our practice test
Take the practice test and answer 20 random questions on road rules, safe riding techniques, and road sign recognition
Find out which questions you answered correctly and which you answered incorrectly - and then find out what the correct answers are!
Retake our motorcycle practice test as many times as you like; with hundreds of questions to choose from, no two tests are alike
With our Vermont motorcycle practice test, you can familiarize yourself with the essentials. Don't go into your official written exam unprepared. Study in advance with our practice test and you can feel confident, knowing you possess the knowledge (and practical experience) needed to succeed.
We understand that studying can be a real chore. But it doesn't have to be. For your benefit, we have developed our Vermont motorcycle practice test to be incredibly convenient and practical. In comparison to other study resources, such as the state's driver handbook, we are confident you will find our practice test to be far superior. Among the benefits afforded by our practice test are:
Formatted after the official exam for purposes of familiarity
Available on mobile devices for your convenience
Includes hundreds of test questions to provide comprehensive information
Guaranteed to help you succeed on your FIRST try or your money back
Our Vermont motorcycle practice test provides you with everything that you need to pass the written exam. We are so confident in our resource, in fact, that we offer it with our 100% money-back guarantee. Enroll today and start reaping the benefits.
Vermont Motorcycle License Endorsement
Under Vermont DMV guidelines, anyone who drives a motorcycle must have a Class M motorcycle license or motorcycle instruction permit.
Applicants must be 16 years of age, successfully complete a 4-hour Vermont Motorcycle Awareness Program training course, pass the motorcycle knowledge test, a sign test and a vision screening. The final step is to pass the motorcycle skills test where you will demonstrate your competency in motorcycle operation.
To obtain a motorcycle endorsement, you must appear at an examination station and pass a 25 question, multiple choice, written test based on material in the motorcycle manual. To pass the examination, 20 of the 25 questions must be answered correctly. (Results of the written test are valid for 120 days from the date of the examination.)
Upon successful completion of the written test the applicant will be required to successfully complete a skills test before the endorsement will be issued. An explanation of the skills test, complete with diagrams, is contained in Part I of the motorcycle manual.
You will not be permitted to take the skills test unless the cycle you furnish for this purpose is properly equipped, registered, inspected (if required), insured, and in good mechanical condition. If an applicant fails the skills test a one-week practice period is required before another skills test may be taken.
All applicants applying for a motorcycle endorsement must hold a valid Vermont license. A fee is required each time an applicant takes the written test. There is no charge for the skills test.
All applicants need to be familiar with the Vermont Motorcycle Driver's Manual. Think you know the material?
Take our FREE motorcycle practice test now and test your driving knowledge.
Try Sample Test!
Vermont Motorcycle Resources