Utah Motorcycle Practice Test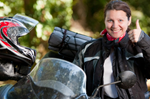 Know the answers BEFORE taking the test
Go into the exam with CONFIDENCE
GUARANTEE your success on test day
details
Sign Up Now - Instant Access
Course Summary - Earn Your Motorcycle License
Our database includes hundreds of sample questions
Our practice test is modeled after the official exam
Familiarize yourself with the test's formatting and questions
Study from your laptop, tablet, or smartphone
Take advantage of our money-back guarantee
Access Time: 30-Days
Course Details
Studying for your written motorcycle exam is made easy with our Utah motorcycle practice test. This resource has been developed with ease of use in mind, and we are confident that you will find it to be incredibly beneficial. To take advantage of our practice test, simply complete the following steps:
Enroll Online - Once you have completed the online registration process, you'll have instant access to our study text
Take Our Utah Motorcycle Practice Test - Comprised of 20 random test questions on road rules, road signage, and safe riding technique, this resource can familiarize you with the essentials
Review Your Results - For each question that you answer incorrectly, we will inform you of the correct answer so that you can learn as you go
Retake Our Motorcycle Practice Test - Our database is made up of hundreds of sample test questions for your benefit; retake our practice test as many times as you like
We have developed our Utah motorcycle practice test with your needs in mind. We are certain that you will find it suits all of your needs!
Benefits
Our Utah motorcycle practice test offers many benefits. Among these are:
Practical - Because our practice test is modeled after the official written exam, studying with it is in effect like taking the state exam before ever setting foot in the motor vehicle office
Convenient - Our Utah motorcycle practice test is accessible on a range of mobile devices, including tablets and smartphones; ditch the paper handbook and study anywhere you have an Internet connection
Comprehensive - Containing hundreds of sample test questions, all of which are modeled after the official exam, our practice test contains all of the information you need to prepare for test day
Effective - We have such confidence in our Utah motorcycle practice test that we offer it with a 100% money-back guarantee; if you fail your written exam for any reason, we'll refund your money
Start reaping the benefits today. Enroll now and you'll be able to start studying right away.
Utah Motorcycle License Endorsement
Under Utah DMV guidelines, anyone who drives a motorcycle must have a Class M motorcycle license or motorcycle instruction permit.
Applicants must be 16 years of age, pass the motorcycle knowledge test, a sign test and a vision screening. The final step is to pass the motorcycle skills test where you will demonstrate your competency in motorcycle operation.
Like most states, Utah will waive your skills test and issue you a license if you complete an approved basic motorcycle rider safety course. These courses last anywhere from two to six weeks and include classroom instruction as well as driver training in a controlled, off-street environment. When you successfully complete this course, you will be eligible for your motorcycle driver's license without having to take your Utah road test.
All applicants need to be familiar with the Utah Motorcycle Driver's Manual. Think you know the material?
Take our FREE motorcycle practice test now and test your driving knowledge.
Try Sample Test!