Tennessee Motorcycle Practice Test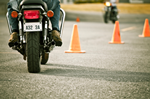 Convenient
Practical
Effective
details
Sign Up Now - Instant Access
Course Summary -
Earn Your Motorcycle License
Modeled after the official exam
Familiarize yourself with its core elements
Take the test BEFORE taking the test!
Take the official exam with confidence
Pass on your FIRST try, guaranteed
Access Time: 30-Days
Course Details
Our Tennessee motorcycle practice test is an effective resource in part because we have modeled it after the official written exam. We believe that there is no better way to prepare for an exam than by studying with a version of that very test - and that is what our Tennessee motorcycle practice test provides! We are confident that you will find this resource to be a far more effective (and beneficial) alternative to other study guides like the state's driver handbook.
Each time that you take our Tennessee motorcycle practice test, you will be presented with a set of 20 random questions covering traffic laws, safe riding techniques, and road signage identification. These questions are similar to the ones you'll find on the official exam so that when you visit your local motor vehicle office on test day, you will be prepared and ready. As you progress through the test, you will be presented with the correct answer to any questions that you got incorrect so that you can learn as you go.
Benefits
We have made a concerted effort at Test Questions and Answers to make our motorcycle practice tests as user-friendly as possible. We are confident that you will find they offer a number of clear benefits that make them particularly attractive study resources. Among these benefits are:
Familiarity - Our Tennessee motorcycle practice test will make taking the official state exam second nature
Practicality Rather than studying with an unfocused and largely conceptually based resource, our practice test allows you to study with a version of the actual test you'll be taking
Effective By seeing the test format and test questions ahead of time, you can become better acquainted with the test's core elements, allowing you to pass with ease
Perhaps best of all, we offer our Tennessee motorcycle practice test with a 100% money-back guarantee. If for any reason you fail the written test after studying with our resource, we'll refund your money, no questions asked.
Tennessee Motorcycle License Endorsement
Under Tennessee DMV guidelines, anyone who drives a motorcycle must have a Class M motorcycle license or motorcycle instruction permit.
Applicants must be 16 years of age, pass the motorcycle knowledge test, a sign test and a vision screening. The final step is to pass the motorcycle skills test where you will demonstrate your competency in motorcycle operation.
If you currently hold a valid Tennessee driver license, Tennessee will waive your skills and knowledge test and issue you a license if you complete the Tennessee Certified Motorcycle Rider Education Program (MREP). These courses last anywhere from two to six weeks and include classroom instruction as well as driver training in a controlled, off-street environment. When you successfully complete this course, you will be eligible for your motorcycle driver's license.
If you do not currently hold a valid Tennessee driver license, you must also take a knowledge test for a Class D license based on the Tennessee Driver Study Guide. If you have completed a Motorcycle Safety Foundation (MSF) course in any state, you may present the certificate of completion or MSF wallet card and have the ability skills test waived. The course must have been completed within three (3) years of the application date. MSF course completion does NOT waive the required knowledge test(s) for a Class D license.
All applicants need to be familiar with the Tennessee Motorcycle Driver's Manual. Think you know the material?
Take our FREE motorcycle practice test now and test your driving knowledge.
Try Sample Test!
Tennessee Motorcycle Resources