South Dakota Motorcycle Practice Test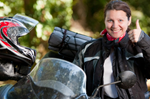 Convenient online layout
Practical test format
Proven effective
details
Sign Up Now - Instant Access
Course Summary -
Earn Your Motorcycle License
Learn the essentials
Familiarize yourself with test questions
Get a better grasp of the test format
Study on your own time, at your own pace
Guaranteed results or your money back
Access Time: 30-Days
Course Details
At Test Questions and Answers, our goal is to make studying fun and easy. We understand that no matter how informative or comprehensive a resource may be, it can only benefit you if you actually use it. For that reason, we have modeled our South Dakota motorcycle practice test after the state's official written exam. Unlike the state's driver handbook, which is long and meandering, our online practice test helps you familiarize yourself with the essentials. Everything you need is included - and nothing more!
To study with our South Dakota motorcycle practice test, simply complete the online registration process and sign in. You'll be granted immediate access to our study guide, at which point you can start taking our practice test. Each test is modeled after the state's official exam, and includes 20 random questions on road rules and safe riding techniques. Any answers that you get wrong you will be able to brush up on, as the correct answers will be provided. Once you've completed the practice test, we encourage you to take it again. We have hundreds of sample test questions and no two tests are the same!
Benefits
We understand that there are a multitude of options when it comes to studying for your written exam. We are confident that you will find our South Dakota motorcycle practice test to be the best. Why? Because we have developed our practice test with your needs in mind. Among the benefits it offers includes:
Incredibly convenient and practical
Accessible on mobile devices - ditch the cumbersome handbook
Familiarize you with everything that you need to know and nothing you don't
Will prepare you for test day so that you can take the exam with confidence
Proven to be effective - we offer our practice test with a money-back guarantee!
What are you waiting for? With our South Dakota motorcycle practice test, you can ensure your success on test day! By studying for your exam using our practice test, you'll be in effect taking the test before test day - give yourself an unfair advantage and enroll now!
South Dakota Motorcycle License Endorsement
Under South Dakota DPS guidelines, anyone who drives a motorcycle must have a motorcycle license or motorcycle instruction permit.
To obtain a Motorcycle License, you must be at least 16 years of age and pass the vision, knowledge (car/truck and motorcycle) tests, and motorcycle driving test.
If a minor is at least 16 years of age, but under 18 years of age, they must complete the requirements of the Instruction Permit and not have been convicted of a traffic violation during the past six months prior to obtaining the Motorcycle Operator's License.
The license is valid for 5 years or on the same date as the expiration date on the valid documents authorizing the applicant's presence in the United States, whichever occurs first.
All applicants need to be familiar with the South Dakota Motorcycle Driver's Manual. Think you know the material?
Take our FREE motorcycle practice test now and test your driving knowledge.
Try Sample Test!
South Dakota Motorcycle Resources