Rhode Island Motorcycle Practice Test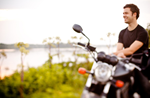 Available with a money-back guarantee
Unlimited retakes are allowed
Know the answers before taking the DMV motorcycle test
details
Sign Up Now - Instant Access
Course Summary
Perhaps the most important aspect of our course is that it is offered entirely online, which allows you to work from anywhere with a connection to the Internet. Not only is our Rhode Island motorcycle practice test course available 24/7, but, as stated earlier, is 100 percent guaranteed!
Access Time: 30-Days
After you enroll in this course, you are introduced to over 600 questions and answers similar to those found on the DMV Motorcycle Test, along with detailed explanations. Here at Test Questions and Answers, we understand that the motorcycle test can be quite difficult, and many applicants actually fail the exam. Some states this past year saw more than 50,000 failures, but with our course, you can be certain that you will be over-prepared for the actual exam. Take advantage of our Rhode Island motorcycle practice test today and ensure your success!
This is the best way to pass your Rhode Island motorcycle exam!
Our Rhode Island motorcycle practice test course is the greatest possible way to obtain your motorcycle endorsement. Once you have successfully taken and passed our motorcycle prep course at least five times, we guarantee you will pass this course on your FIRST attempt. If for some reason you do not pass on your initial attempt, we will provide you with all of your associated course costs.
Rhode Island Motorcycle License Endorsement
Following Rhode Island DMV guidelines, you need to possess a Class M motorcycle license or instruction permit, as well as:
Complete a motorcycle safety course, which is offered through the Community College of Rhode Island (CCRI), with campuses located in Warwick and Lincoln. To contact Knight Campus in Warwick, call (401) 825-1214.
Following your completion of the course, you need to bring your certificate of completion and you current, valid RI license to a DMV branch during regular business hours. Afterwards, you must hold the permit for 30 days, but after that period is up, you can return to any branch office with your motorcycle permit and valid RI license.
If you are currently in possession of a motorcycle license in another state and are applying for your Rhode Island license, the DMV will convert your existing license to your new license. We highly encourage all applicants to become more familiar with the Rhode Island Motorcycle Driver's Manual. If you think you know the material, take our FREE motorcycle practice test now to test your driving knowledge.
Enroll in our comprehensive course today!
When you decide to become involved with our amazing course, you are taking advantage of the benefits and details as listed above. To better prepare yourself as a motorcycle rider, enroll in our course today - we can guarantee that you will be glad that you did!
Try Sample Test!
Rhode Island Motorcycle Resources