Pennsylvania Motorcycle Practice Test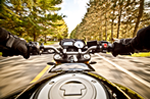 Unlimited motorcycle practice tests available
Know the answers before you take the DMV motorcycle test
Offered with a money-back guarantee
details
Sign Up Now - Instant Access
Course Summary
This proven, effective, FAST and EASY course will allow you to avoid the 50 percent national failure rate. When you enroll in our Pennsylvania motorcycle practice test course, you are 100 percent guaranteed to pass the actual exam (or we'll provide you with a full course refund).
Access Time: 30-Days
Prepare for the Motorcycle License written exam online!
This course will introduce you to over 600 questions and answers similar to those on the real exam, including detailed explanations. Perhaps best of all, this course provides unlimited practice exams that you can take whenever you would like! Here at Test Questions and Answers, we understand that the DMV motorcycle test is not easy, and many applicants fail the exam. Just this past year, some states have seen more than 50,000 failures. Don't take that risk!
The correct way to pass you Pennsylvania motorcycle license exam!
Through our Pennsylvania motorcycle practice test course, you will receive the best preparation available to get your motorcycle license! Luckily, this course is available entirely online, so this allows you to work from anywhere with a connection to the Internet! Once you have successfully completed and passed our course at least five times, you will pass the actual exam with ease!
Pennsylvania Motorcycle License Endorsement
According to Pennsylvania DMV guidelines, you must possess a Class M motorcycle license or motorcycle instruction permit before you can ride a motorcycle. This will allow you to drive between sunrise and sunset. It is very important to know that it is illegal to carry any passengers other than a properly licensed instructor.
In order to receive your license, you must also pass a knowledge test and an on-cycle skills test. The questions on your written exam are based on information from the DMV motorcycle manual. If you are under 18, you must have your permit for at least 6 months, as well as have 65 hours of supervised driving prior to taking the actual test.
**Additionally, as of August 31, 2012, it is necessary to complete a Pennsylvania motorcycle safety program basic rider course to receive your motorcycle license.
Enroll in our comprehensive course today!
If practice makes perfect, then our course is just right for you! The more times you take our course, and successfully pass the practice tests, the more prepared you will be on your actual exam!
Try Sample Test!
Pennsylvania Motorcycle Resources