Oregon Motorcycle Practice Test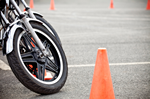 It's just like having the answers before taking the test
Offered with our money-back guarantee
Unlimited motorcycle tests available
details
Sign Up Now - Instant Access
Course Summary
This amazing course will allow you to pass your written test with CONFIDENCE. Our proven effective methodology has been developed to train our military service members, so it is ideal to put you on the correct path! When you enroll in our Oregon motorcycle practice test course, you will avoid the 50 percent national failure rate, as well as pass the actual exam on your FIRST attempt.
Access Time: 30-Days
Prepare for the Motorcycle License written test online!
You will be introduced to over 600 questions and answers similar to those found in the DMV motorcycle test. If you answer a question incorrectly, however, you will be provided with a detailed explanation directly following the questions. A great facet of our course is that we offer you unlimited practice exams, and it is provided with our money-back guarantee. Just this past year, some states saw as many as 50,000 failures, but now you can feel over-prepared prior to taking the actual DMV exam.
The correct way to pass your Oregon motorcycle license exam!
Through successfully completing this course, you will receive the best preparation available to get your motorcycle license endorsement. Since our course is presented entirely online, you have the tremendous ability to work from anywhere with a connection to the Internet! Once you have taken and passed our course (at least five times), we guarantee that you will pass the actual exam on your FIRST try!
According to Oregon DMV guidelines, anyone who drives a motorcycle must have a Class M motorcycle license or instruction permit. You must also be at least 16 years old and possess a regular driver's license (non-Commercial Class C) or higher. If you are under the age of 18, however, you must obtain a parent or guardian's signature on your application.
If you apply for the motorcycle endorsement, and do not have a motorcycle endorsement from another state, you must complete an approved motorcycle education course. The dates by which these courses must be applied to, on or after, are as follows:
January 1, 2014 - UNDER 61
January 1, 2015 - Any age
Enroll in our comprehensive course today!
When you decide to enroll in our Oregon motorcycle practice test, you will be taking advantage of our comprehensive benefits. We can guarantee that you will be satisfied with you results, or we will refund your course cost.
Try Sample Test!
Oregon Motorcycle Resources