Oklahoma Motorcycle Practice Test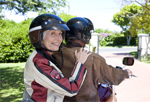 Like having the answers before you take the test
Offered on a money-back guarantee
Presenting unlimited motorcycle practice tests
details
Sign Up Now - Instant Access
Course Summary
Since this Oklahoma motorcycle practice test course is offered entirely online, you will eliminate the need to excessively study books (except the DMV handbook as a reference source). Here at Test Questions and Answers, we want to impart the knowledge necessary to you to avoid the national failure rate of 50 percent. Also, after taking our course you will pass your written test with CONFIDENCE, or we will provide you with a full refund of our course!
Access Time: 30-Days
Prepare for the DMV Motorcycle License written test!
When you enroll in this comprehensive course, you will be introduced to 600 questions and answers similar to those found on the actual exam. This course will also allow you to master the rules of the road, and increase your knowledge of traffic signs and safety as well. We understand that the motorcycle test is typically difficult for many applicants - some states last year saw more than 50,000 failures. The Oklahoma motorcycle practice test course will steer you in the right direction, however, so you will enter the exam feeling over-prepared.
The correct way to pass the Oklahoma licensing exam!
This course utilizes proven teaching methods that have been developed to train our military service members. Fun, easy, and interactive, this course also provides you with multiple-choice questions and answers from each individual chapter of the Oklahoma Driver's Manual. Once you have successfully taken (and passed) our course at least five times, we guarantee that you will pass the motorcycle test on your FIRST attempt!
Under Oklahoma DMV guidelines, you must possess a Class M motorcycle license or complete a motorcycle instruction course to operate a motorcycle. It is also highly necessary that applicants be 16 years old or greater, as well as pass both the knowledge and screening tests. Finally, you will need to pass the motorcycle skills test. Oklahoma will ultimately waive your skills test to issue you a license if you have completed an approved motorcycle rider safety course.
Enroll in our comprehensive course today!
Enrolling in our all-encompassing course ensures that you will have access to the advantages and benefits as listed above. The sooner you become involved, the better you will do on your DMV exam! Good luck and thank you for choosing us!
Try Sample Test!
Oklahoma Motorcycle Resources