Ohio Motorcycle Practice Test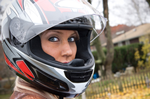 Prep course is fully online
User-friendly and fun to use
Eliminate the option of failing
details
Sign Up Now - Instant Access
Course Summary
When you go to the DMV, you expect to leave with a license, right? If you want to obtain your motorcycle license on your very first attempt, then we encourage you to enroll in our Ohio motorcycle practice test. Backed by proven results, you really can't afford to ignore this opportunity. It's our duty to make sure you simultaneously succeed on the test and road. You can register today and get started instantly.
Access Time: 30-Days
Before taking the written portion of the DMV exam, wouldn't you like to be completely prepared? You no longer have to worry about failing the test - we'll give you the knowledge and skills you need to legally hit the open road. With over 600 questions available, it will be as if you're taking the actual assessment!
Prepare again and again - there are no limits
Be exposed to accurate answers and explanations
Become familiar with road rules and traffic signs from the real exam
Are you ready to enroll in our Ohio motorcycle practice test? You can't walk into the DMV unprepared; you won't do well on the exam. Our prep course is swift and easy and will allow you to become a motorcycle licensed driver.
We believe those who want to better their driving futures should be rewarded. Therefore, we've included a range of benefits that will be available after registration is complete. Enrolling in a prep course no longer has to be hassling or time consuming - we've officially made the process of learning fun and exciting!
With Internet access, work from any location
The course is available morning, noon, and night - seven days a week
All of the questions are in multiple choice form
Our program is also completely guaranteed. After you take and pass our prep course at least five times, we guarantee you'll pass the written portion of the DMV exam on your first try. If you don't, we will gladly refund you the money spent on our class.
In the State of Ohio, there are different types of motorcycle licenses to choose from: a TIPIC, a regular license, and a motorcycle endorsement. In order to achieve a Temporary Instruction Permit Identification Card, riders will have to be at least 15 and a half years old, but under 18. A rider can work to obtain a restricted license, meaning he or she can only drive motorcycles. An endorsement is for those who already have a driver's license, which would allow them to drive a car and/or motorcycle. Before you can get your full license, you will have to be at least 18 years old and pass a road skills test.
Are you currently familiar with the Ohio Motorcycle Driver's Manual? If so, then you're ready to enroll in our program. Take our prep course today and see where you stand. You won't regret working with us!
Try Sample Test!