New York Motorcycle Practice Test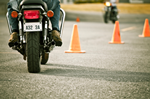 Gain a high level of confidence
Failure will no longer be a possibility
You'll speed right through the course
details
Sign Up Now - Instant Access
Course Summary
We won't waste your time - if you want to get a motorcycle license, then you've come to the right place. Our New York motorcycle practice test has been proven to be fun and effective. With a little bit of assistance, you'll legally be on the road, feeling the refreshing breeze. Don't risk failing the written portion of the DMV exam. Take our prep course and achieve your goal.
Access Time: 30-Days
Thanks to our prep course, when you enter the DMV, you will no longer be nervous. Our program will make it seem as if you've already taken the assessment and aced it. It will actually be as if you've been given the answers before taking the motorcycle exam.
Over 600 questions to get you fully prepared
You'll be given accurate answers and detailed explanations
You can work from your favorite location, even a coffee shop
No one likes to take tests. Luckily, you have the opportunity to take our New York motorcycle practice test. Therefore, you'll be cool, calm, and collected when test day rolls around. Now's your chance to earn your spot on the road, so don't let it pass.
We've made sure to stack our course with tons of benefits. We don't want you to feel boggled down with a boring or difficult program. Therefore, our prep class is simple to master and only uses stimulating material. Now, not only will you learn, but you'll have fun while doing so.
A hassle-free experience
The course is available seven days a week
No traveling is involved
We've saved the best for last: Our prep course is completely guaranteed. After you've successfully passed our practice test at least five times, we guarantee you'll pass the written exam on your very first try. If you don't, the money you spent on our course will be returned to you.
If you plan on riding a motorcycle in New York, you will need to have a class M or Class MJ (junior) driver license or learner's permit. If you already have a motorcycle license from another state, a quick trip to the DMV to provide proof of identity, date of birth, and your out-of-state license will allow a transfer to take place. If you already have a New York driver's license or learner's permit, then you will have to pass a written motorcycle test. If this process is successful, you'll receive a permit and then have to follow the regular steps in order to secure an actual license. If you don't have a New York driver's license or permit, then you will have to start this process by taking the Driver's Manual exam.
If you're applying for our prep course, you will need to be familiar with the New York Motorcycle Driver's Manual. If you believe you're good to go, then take our practice test today. We look forward to your participation.
Try Sample Test!
New York Motorcycle Resources