New Mexico Motorcycle Practice Test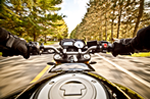 100 percent online
You can start right now
Program is easy to access
details
Sign Up Now - Instant Access
Course Summary
We've developed a stress-free way for you to fully prepare for the DMV exam. If you want to obtain your motorcycle license sooner rather than later, then our New Mexico motorcycle practice test was designed for you! Created by a team of professionals, this program can guarantee that you'll be driving in no time!
Access Time: 30-Days
You'll be pleased to know that our course offers over 600 questions, answers, and detailed explanations to view. When you participate in this program, it will be as if you're taking the real DMV exam. Whether you decide to use a computer, tablet, iPad, or smart phone, we are confident you'll complete the course promptly and smoothly.
Become familiar with traffic signs and road laws
You'll have an unlimited amount of chances to prepare
Forget about using boring study guides and handbooks
Does our New Mexico motorcycle practice test sound like it's up your alley? If you register now, you'll have immediate access to our course and stimulating material. If it's your dream to obtain a motorcycle license, then start working towards it!
If you feel as if your schedule just won't permit you to participate in a prep course, then this is definitely the program for you. You'll have the ability to log in and work when it's convenient for you. It doesn't matter if you prefer working in the morning, afternoon, or evening - our class will be available!
Course is so enjoyable you won't even feel as if you're working
Only multiple questions appear on the practice test
Offered at an affordable rate so that everyone can join
It's our great pleasure to announce that our course is completely guaranteed - or your money back. If you don't pass the written portion of the DMV exam on your first try, after successfully completing our practice course at least five times, you will then receive a full refund for the price of our program.
In the State of New Mexico, there are three different types of endorsements. The W Endorsement is for 100cc and larger motorcycles. If you're 15 and have completed driver's education, then you are able to apply for this endorsement. The Y Endorsement is for motorcycles between 50cc and 100cc. You can be as young as 13 to apply for this. The Z Endorsement requires that you be at least 13 years old and limits riders to motorcycles with a displacement of less than 50cc. If you are over the age of 18, you are not required to wear a helmet.
It's important that all applicants are familiar with the New Mexico Motorcycle Driver's Manual. When it comes to this document, is your knowledge up to date? Take our practice test now! Why would you start tomorrow when you can begin today?
Try Sample Test!
New Mexico Motorcycle Resources