New Jersey Motorcycle Practice Test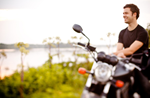 Course is fun and affordable
You can study and work from home
Only go to the DMV one time
details
Sign Up Now - Instant Access
Course Summary
If you hate going to the DMV, then take our New Jersey motorcycle practice test to ensure you reach success on your first visit. We've helped plenty of other drivers receive their motorcycle license, so let us assist you! We take pride in providing a resourceful education that promotes safety and awareness. Don't hesitate any longer - give our program a chance!
Access Time: 30-Days
What more do you need to know? Our prep course rocks! Now, you can learn how to become a safe driver and get prepared for the DMV exam in one convenient location. We know you already have a busy schedule, which is why this course was designed to be taken from all locations, at all hours of the day.
View questions and answers similar to those on the real exam
With over 600 questions available, prepare as much as you want
The course is speedy and simple to use
Why haven't you enrolled in our New Jersey motorcycle practice test? Opportunities like this don't come around often, so get started now! You don't want to miss the chance to become confidently prepared for the DMV exam.
Can you think of a better way to mentally prepare for the written portion of your motorcycle exam? To ensure you thoroughly enjoy the learning experience you're about to participate in, we've included a slew of benefits that will have you jumping up and down and completely ready to register and get stared.
Use a computer, smart phone, tablet, or iPad
No commuting or traveling is involved
You are your own teacher - no instructors
Better yet, our course is guaranteed to help you. Once you've taken and passed our prep course at least five times, we guarantee you will pass the written potion of the DMV exam on your first try. If you don't, we will have no problem issuing you a refund for the price of the course. See, you've got nothing to lose!
In the State of New Jersey, you must be at least 17 years old to operate a motorcycle. If you already have a basic driver's license, then you can add a motorcycle endorsement to it. Otherwise, you will be issued a Class E motorcycle license. At the DMV, you will need to complete the required application, show your current New Jersey license (if you have one), and proof of identity. After receiving your permit, you have 90 days to go to the testing center and take the knowledge and vision tests. You will also have to schedule a road test, unless you successfully pass a safety education program course.
Get out on the road as soon as it's legally possible! We do ask that all applicants be familiar with the New Jersey Motorcycle Driver's Manual. If you currently are, then you're ready to get started. Take our practice test today and start measuring your skills.
Try Sample Test!
New Jersey Motorcycle Resources