Nevada Motorcycle Practice Test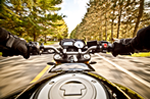 Avoid the 50 percent failure rate
Course is completely user-friendly
You'll be finished in no time
details
Sign Up Now - Instant Access
Course Summary
We know how stressful it can be to go to the DMV and take the written exam. Therefore, we've developed an easy to use program that will allow you to effectively get ready for the test, as well as the open road. Our Nevada motorcycle practice test will provide you with specific skills and knowledge to ensure you ace the real exam on your very first try. What are you waiting for? Give us a try today!
Access Time: 30-Days
If you want to pass the DMV exam and receive your motorcycle license, then you will have to prepare for the test. We can help you accomplish this goal in a short period of time. We'll even give you access to over 600 questions that are quite similar to those seen on the actual exam.
Receive detailed explanations for each question
Take your time and learn at your own leisure
Become fully aware of specific traffic signs
We're offering you an amazing opportunity, so jump on board! Our Nevada motorcycle practice test was designed for drivers like you! Take the prospect of failing out of the equation by registering today!
You will fully benefit from enrolling in our prep course. Not only will you pass your DMV exam, but you will also become a safe driver. Before you head out on the road, it's vital to make sure you're confident and secure. Our program will ensure this takes place, plus offer you the following incentives for enrolling:
Use a variety of tools to navigate our site
Work from any location that has Internet access
All questions are in the form of multiple choice
It's a fact that our course is also completely guaranteed. Therefore, after you've successfully passed our prep test at least five times, we guarantee you'll be successfully at the DMV. If you don't pass the written exam on your first try, the money you spent with us will be returned to you.
Once you turn 15 and a half years old, you will be eligible to receive a permit to drive a motorcycle. However, you will have to be 16 years old before you can get a full motorcycle license. If you're ready to complete the process, you can either take a course from a third-party provider or pass the knowledge and skills tests from the local DMV office. If you're under 18 years old, you will have to have a parent or guardian's consent.
Are you aware of the Nevada Motorcycle's Driver's Manual? If so, then you can start learning today! Take our motorcycle practice test and see if you've got the skills to rock the DMV exam. After all, practice makes perfect, so get to work!
Try Sample Test!
Nevada Motorcycle Resources