Missouri Motorcycle Practice Test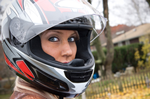 Comprehensive guide
Familiar format
Guaranteed results
details
Sign Up Now - Instant Access
Course Summary
More than 500 sample test questions
Covers the same topics found on the test
Test is presented in an intuitive and user-friendly layout
Will prepare you for test day
Guaranteed results or your money back
Access Time: 30-Days
If you are currently in the process of studying for your motorcycle exam, let us help. Our online Missouri motorcycle practice test can prepare you for the exam by familiarizing you with key questions and concepts, as well as its format. Why risk failing the test when you can prepare ahead of time? For your benefit and the benefit of individuals just like you, we have developed our resource to be easy to use and effective.
To take advantage of our practice test, simply complete the online registration process and access our course materials from your laptop, smartphone, tablet, or computer. Once you've logged in, you will take a practice test composed of 20 random test questions. These questions will test you on a range of topics, including road rules and traffic law, road signage recognition, and safe riding techniques. Because these questions are selected at random, no two practice tests are alike! Register today and start preparing for your exam.
At Test Questions and Answers, we recognize the importance of creating a resource that is convenient, user-friendly, and practical. After all, if our resource were not these things, nobody would be inclined to use it. We've gone to great lengths to create a resource that's suited to your needs and believe that you'll appreciate the difference. Among the benefits of our Missouri motorcycle practice test include:
Available entirely online
Available 24/7
Accessible on smartphones, tablets, and laptops
Modeled after official state exam
Covers only the information you need to know
User-friendly and intuitive layout
Best of all, our Missouri motorcycle practice test comes with a 100% money-back guarantee. We are able to offer this guarantee because we are confident it will help you pass your motorcycle written exam on your FIRST try! Enroll today and see for yourself.
Missouri Motorcycle License Endorsement
You may apply for a temporary motorcycle instruction permit at 15 ½ years of age (15 years and 182 days). This permit will only be issued if you have successfully completed an approved motorcycle rider training course (MRTC). You must also pass the Class F and Class M written, vision and road sign tests and have the written consent of your parent or legal guardian. Applicant's who are 15 ½ to 18 years of age must also comply with Graduated Driver License eligibility requirements and restrictions.
To earn your license, you must pass a knowledge test and an on-motorcycle skill test. Knowledge test questions are based on information, practices and ideas from the manual. They require that you know and understand road rules and safe riding practices. An on-motorcycle skill test will either be conducted in an actual traffic environment or in a controlled, off-street area.
All applicants need to be familiar with the Missouri Motorcycle Driver's Manual. Think you know the material?
Take our FREE motorcycle practice test now and test your driving knowledge.
Try Sample Test!
Missouri Motorcycle Resources