Mississippi Motorcycle Practice Test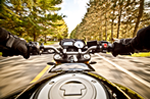 Incredibly affordable
Incredibly convenient
Incredibly effective
details
Sign Up Now - Instant Access
Course Summary
Hundreds of sample test questions
Convenient online guide
Can help you become familiar with essentials
Will prepare you for test day
100% money-back guarantee
Access Time: 30-Days
Studying with our Mississippi motorcycle practice test is simple. Follow the three-step process outlined below and you'll be ready to take the official state exam!
Enroll Online - after you have enrolled for our practice test, you'll be able to access the materials immediately; there are no downloads or printouts required
Take the Practice Test - each of our practice tests is composed of 20 random questions covering a range of topics relating to motorcycle riding; as you progress through the test, you'll learn the correct answers to those questions that you answer incorrectly
Retake the Practice Test - this is the simplest part of the process; once you've completed one of our practice tests, we urge you to retake it, as no two practice tests are identical
If you follow this simple three-step process, we guarantee your success. You have nothing to lose so enroll today!
The benefits of our Mississippi motorcycle practice test are many. Among them:
Convenient - Study from home, the coffee shop, the library, or on the bus ride home; our Mississippi motorcycle practice test is smartphone and tablet compatible
Practical - Rather than waste your time with global concepts, our practice test lets you prepare for the state exam by practicing with a version of it
Effective - Because our practice test is a participatory exercise, and includes information on only the essentials, you can more easily learn and retain new information
Ditch the state's driver handbook and study instead with our Mississippi motorcycle practice test. You'll appreciate the difference!
Mississippi Motorcycle License Endorsement
If you hold or are applying for a Mississippi driver license and want to operate a motor-driven cycle, you must obtain a motorcycle endorsement which requires passing both the written test and a driving skills test and pay the appropriate Fee (cash only). If you hold an out-of-state license which is valid for the operation of motorcycles, the written and skills tests may be waived.
All applicants need to be familiar with the Mississippi Motorcycle Driver's Manual. Think you know the material?
Take our FREE motorcycle practice test now and test your driving knowledge.
Try Sample Test!
Mississippi Motorcycle Resources