Minnesota Motorcycle Practice Test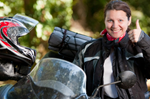 A comprehensive resource
A convenient study guide
A proven way to success
details
Sign Up Now - Instant Access
Course Summary
Unlimited practice tests available
Nearly 1,000 sample test questions available
Covers the essentials
Modeled after official exam
Guaranteed results
Access Time: 30-Days
Our Minnesota motorcycle practice test is a tremendous resource. Modeled after the official state exam, it allows you to - in effect - take the test before ever setting foot in the DMV office! Containing the same types of questions, covering the same concepts, and incorporating the same test format, it can familiarize you with the exam's core elements. When the time comes to take the written test, you'll be able to do so with confidence, knowing that you possess the knowledge needed to pass.
Each of our Minnesota motorcycle practice tests contains 20 random questions on road rules, traffic law, and safe riding technique. As you progress through each practice test, you can find out which questions you're answering correctly, and which of those you aren't. This way, you can learn as you go. Once you've completed a practice test, you can retake it as many times as you like. No two practice tests are alike!
The benefits of our Minnesota motorcycle practice test are many. In fact, we have such confidence in this resource that we offer it with our 100% money-back guarantee. If you take our practice test and are able to pass it multiple times, we are confident you will possess the knowledge you need for success. If you don't pass your test after studying with our study guide, we'll refund your money. It's that simple.
However, the benefits go far beyond the guide's effectiveness as a study resource. We have also designed it so that it is:
User-friendly
Convenient
Practical
Fun and engaging
Helpful
We believe that you'll find it to be a far better study resource than the state rider handbook. Why bother thumbing through page after page of text when you can simply practice by taking a version of the very test you'll be required to complete? Get started today!
Minnesota Motorcycle License Endorsement
Under Minnesota DMV guidelines, anyone who drives a motorcycle must have a Class M motorcycle license or motorcycle instruction permit. A valid Minnesota driver's license is required to obtain a motorcycle instruction permit.
All applicants must pass a knowledge test at a driver examination station in order to qualify for a motorcycle instruction permit. If you are under 18 years old, you must present a certificate of course completion from an approved motorcycle rider training program.
All applicants need to be familiar with the Minnesota Motorcycle Driver's Manual. Think you know the material?
Take our FREE motorcycle practice test now and test your driving knowledge.
Try Sample Test!
Minnesota Motorcycle Resources