Massachusetts Motorcycle Practice Test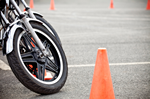 Don't go into your test unprepared
Unlimited retakes are allowed
Pass your test with ease
details
Sign Up Now - Instant Access
Course Summary
Familiarize yourself with key topics
Prepare for your test on your own time
Study with the same questions you'll be tested on
Access our materials on your smartphone or tablet
Pass the test on your first try, guaranteed
Access Time: 30-Days
Our online Massachusetts motorcycle practice test is a comprehensive resource that can help familiarize you with the very questions, topics, and concepts that will be covered on the official state exam. Studying with our practice test can give you an advantage when it comes to take the exam, as you will be prepared and ready. This preparedness comes from our resource being modeled after the official exam. In order to make the most of this resource, we encourage you to refer to it often. The study process is simple:
Enroll online and access our course materials immediately
Take a practice test containing 20 questions on road rules and proper riding technique
Retake the test as often as you want; no two practice tests are identical
The Motorcycle Test is not easy and many applicants fail the exam! Last year, some states had more than 50,000 failures. But now, you can feel "over-prepared" without having to spend hours studying the DMV Handbook.
We think that you'll find our Massachusetts motorcycle practice test offers a number of clear benefits over other study resources. Unlike the official driver handbook, which contains dozens and dozens of pages that make it difficult to find the information you're seeking, our practice tests are simple and straight-forward. Simply log in and take our practice test! The benefits don't end there, however. In addition to being user-friendly, our practice tests are also:
Convenient
Practical
Comprehensive
Effective study guides
Fun and engaging
When you have successfully taken and passed our motorcycle prep course at least five times, we guarantee you'll pass your motorcycle test the FIRST time at your local driver's license office or we will provide you with a full refund for the cost of the course!
Massachusetts Motorcycle License Endorsement
Under Massachusetts DMV guidelines, anyone who drives a motorcycle must have a Class M motorcycle license or motorcycle instruction permit.
Applicants must be 16 years of age, pass the motorcycle knowledge test, a sign test and a vision screening of basic colors. Applicants under the age of 18 must complete the Massachusetts Rider Education Program (MREP) to get a Class M (motorcycle) license or endorsement. The final step is to pass the motorcycle skills test where you will demonstrate your competency in motorcycle operation.
Like most states, Massachusetts will waive your skills test and issue you a license if you complete an approved basic Motorcycle Rider Education Training course. You must present your course certificate to the DMV within 90 days of completing the program. These courses last anywhere from two to six weeks and include classroom instruction as well as driver training in a controlled, off-street environment. When you successfully complete this course, you will be eligible for your motorcycle driver's license without having to take your state's road test.
All applicants need to be familiar with the Massachusetts Motorcycle Driver's Manual. Think you know the material?
Take our FREE motorcycle practice test now and test your driving knowledge.
Try Sample Test!
Massachusetts Motorcycle Resources