Kentucky Motorcycle Practice Test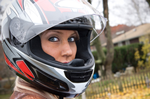 Know the answers before you take the DMV motorcycle test
Offered with a money-back guarantee
Available entirely online for your convenience
details
Sign Up Now - Instant Access
Course Summary
When you enroll for this Kentucky motorcycle practice test, you will ultimately avoid the 50 percent failure rate and earn your license! Take advantage of this resource and you can take the written test with CONFIDENCE.
Access Time: 30-Days
Prepare for the Motorcycle License written test online!
With our Kentucky motorcycle practice test, you will be introduced to over 600 questions and answers similar to those found on the DMV Motorcycle test (including detailed explanations). Here at Test Questions and Answers, we understand that taking the Motorcycle Test is not easy - many applicants fail the exam! Last year, in fact, some states saw more than 50,000 failures. When you take our course, however, you will be over-prepared without having to spend hours toiling away at the DMV Handbook. Simply sign in, complete the 20 questions found on the practice test, and retake as needed!
The smart way to pass your Kentucky motorcycle license exam!
This course will best prepare you to get your motorcycle license endorsement! It is incredibly effective; in fact, it has been developed to train our military service members. When you have successfully completed our prep course at least five times, we guarantee that you will pass your exam the FIRST time at your local driver's license office, or we will refund the cost of the course!
Kentucky Motorcycle License Endorsement
Under Kentucky DMV guidelines, anyone who drives a motorcycle must have a Class M motorcycle license. To apply for the permit, you must be at least 18 years old. If you are under the age of 18, however, you must have a parent or legal guardian who is willing to assume the responsibility imposed by KRS 186.590.
Kentucky will waive your skills test and issue you a license if you complete the approved basic motorcycle rider safety course. These courses last anywhere from two to six weeks and include classroom instruction as well as driver training. To prepare yourself in advance, we strongly encourage you to take advantage of our Kentucky motorcycle practice test - it will enhance your driving knowledge and your confidence!
Enroll in our comprehensive course today!
By enrolling for our Kentucky motorcycle practice test course, you are moving in the right direction! We can guarantee that if you enroll now, that you will be satisfied with our results!
Try Sample Test!
Kentucky Motorcycle Resources