Illinois Motorcycle Practice Test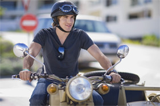 Know the answers before you take the DMV motorcycle test!
Unlimited motorcycle practice test attempts
Offered on our money-back guarantee!
details
Sign Up Now - Instant Access
Course Summary
With our comprehensive Illinois Motorcycle Practice Test, you can take your written test with CONFIDENCE. Our proven, effective, fast and easy course ultimately eliminates the use of handbooks, for our course is offered entirely online. With this 100 percent guaranteed course, you can avoid the tragic national failure rate of 50 percent!
Access Time: 30-Days
Prepare for the Motorcycle License written test online!
You will be introduced to over 600 questions and answers similar to those found on the actual DMV licensing exam (along with detailed explanations).This comprehensive course also allows you to quickly learn the rules of the road, as well as traffic signs and safety. Each time that you take our test, you will see a different set of 20 questions, selected at random. Take and retake the test as often as you like!
We understand that the Motorcycle Test is not easy, and many applicants fail the exam! Just last year, some state saw more than 50,000 failures, but now, you can feel over-prepped without wasting countless hours studying the DMV Handbook.
The smart way to pass your Illinois motorcycle license exam!
We can provide you with the best preparation available to get your motorcycle license endorsement. As stated earlier, since this course is offered completely online, you can work at your own convenience every day of the week! When you have successfully completed our course and taken the practice tests at least five times, we can guarantee that you will pass on your FIRST attempt! If you do fail on your initial attempt, however, we will provide you with a full refund for our course.
In the State of Illinois, anyone who drives a motorcycle must have a Class M motorcycle license or instruction permit. Applicants under the age of 18 that present an IDOT Motorcycle Rider Course completion card will still be required to take the driving examination. If you are over the age of 18, and present a completion card for this course, you will not be required to take the exam. First time applicants who do not hold this card must pass a vision screening, written exam, and driver examination.
The IDOT Motorcycle course is a 20-hour multimedia training program that includes both classroom and hands-on instruction. Once you have successfully completed this course, you are eligible for your license without having to take the road test. We also encourage all drivers to become familiar with the Illinois Motorcycle Driver's Manual. Do you think you know the material? Then take our FREE practice test today!
Enroll in our comprehensive course today!
When you enroll in our Illinois Motorcycle Practice Test course, you are already taking advantage of the benefits listed above. When you take our course, you have nothing to lose, and everything to gain, so enroll now!
Illinois Motorcycle Resources