Idaho Motorcycle Practice Test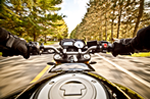 Offered on our money-back guarantee
Unlimited motorcycle tests
Know the answers before you take the DMV exam
details
Sign Up Now - Instant Access
Course Summary
This Idaho motorcycle practice test is great to help you pass your written test with CONFIDENCE. This fast and easy course eliminates the need to study handbooks, allows you to avoid the 50 percent failure rate, and makes passing today easy.
Access Time: 30-Days
Prepare for the Motorcycle License written test online!
You will get to see over 600 questions and answers similar to those found on the DMV motorcycle test, along with detailed explanations. Each test is comprised of 20 sample test questions on road rules, road signs, and safe riding techniques. Each time you retake the test, you will see a different batch of questions.
It's like having the answers before you take the motorcycle exam!
Quickly learn the rules of the road and be able to identify traffic signs
You have unlimited practice exams available to you - included with our money-back guarantee
The smart way to pass your Idaho motorcycle license exam!
This course will help prepare you for your motorcycle license endorsement, as it utilizes teaching methods developed for training our military service members! When you enroll in this fun, easy, and interactive prep course, you will be provided with multiple-choice questions (along with answers) from each chapter of the Idaho Driver's Manual. Perhaps the best asset of our course is that you can work from anywhere with a connection to the Internet.
Once you have successfully taken and passed our motorcycle prep course at least five times, we guarantee that you will pass the actual DMV exam on your FIRST attempt. If you fail, however, we will provide a full refund for the cost of our course!
Under Idaho ITD guidelines, anyone who drives a motorcycle must possess a Class M motorcycle license or motorcycle instruction permit. Anyone who applies for the motorcycle endorsement after September 1, 1998 will be required to pass both a written knowledge test and motorcycle skills test. Any person under the age of 21 will also be required to take a written knowledge test, as well as successfully complete a motorcycle training course.
Similar to other states in the U.S., Idaho will waive your skills test and issue you a license if you complete the approved basic motorcycle safety course within the year prior to adding the endorsement to your license. The recommended courses could last anywhere from two to six weeks, and also includes driving and classroom instruction. Once you have completed the course, you will then be eligible for your motorcycle driver's license!
We encourage applicants to become familiar with the Idaho Driver's Manual. Think you have a handle on the material? If so, you should definitely take our FREE motorcycle practice test to review your driving knowledge!
Enroll in our comprehensive course today!
When you enroll in our Idaho motorcycle permit practice test, you are making strides in the right direction. So go ahead, enroll today - we can guarantee that you will be happy you did!
Idaho Motorcycle Resources