Georgia Motorcycle Practice Test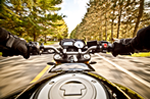 Proven to be quick and easy
Work from your favorite location
Eliminates self-doubt and worry
details
Sign Up Now - Instant Access
Course Summary
You no longer have to dread going to the DMV. When you participate in our Georgia motorcycle practice test, you'll know that you're going to pass the written exam before you even walk in the door. Our prep course is completely available online and will allow you to swiftly learn important facts and information. If you want to ensure you're hitting the open road in a timely manner, then you'll consider enrolling in this program.
Access Time: 30-Days
As soon as you discover how simple and effective our course is, you won't want to choose any other program to help you prepare for the DMV exam. As we have over 600 questions in our database, we will make sure you are fully exposed to questions that are similar to the ones found on the real DMV exam.
All questions are in multiple choice form
This course is more stimulating than the DMV Handbook
You'll learn information quickly, but also sufficiently
Our Georgia motorcycle practice test will get you the results you want. Has the idea of actually failing the exam crept into you mind? We will help you brush those negative thoughts away. For our professional assistance, enroll today!
Are you searching for a program that is backed by a great track record? If so, then this is the course for you. Better yet, when designing this prep course, we've made sure to include tons of benefits. After all, you deserve to have fun and smile when preparing for the DMV exam.
Available 24/7
Work as slow or fast as you want
100 percent guaranteed - or your money back
Are you as excited as we are that our program is guaranteed? After you've successfully taken our practice test at least five times, you will be guaranteed to pass the DMV exam on your first try. If you don't happen to pass, we will issue you a refund for the price of our course.
You must be 17 years old to apply for a motorcycle license in the State of Georgia. However, if you're 16 years old, then you can earn your permit and practice your riding skills before the road test. If you are under 18, your parent or guardian will need to sign your license application. You will need to take the following documents to the DMV: proof of identity, proof of address, proof of birth date, and proof of U.S. citizenship or lawful presence in the United States.
What's stopping you from starting today? Are you currently familiar with the Georgia Motorcycle Driver's Manual? If so, then take our practice test today and see where your skills rank. You won't regret this experience!
Georgia Motorcycle Resources